Blueberries have a wide range of micro-nutrients, high levels of the essential dietary mineral manganese, vitamin B6, C, K and dietary fibers. Blueberry juice, made with ripe blueberries, celery, beetroot and apple help you to savor all of its goodness in a form of a juice. Learn how to make it in few minutes with this easy recipe and don't forget to read tips given below to make different varieties.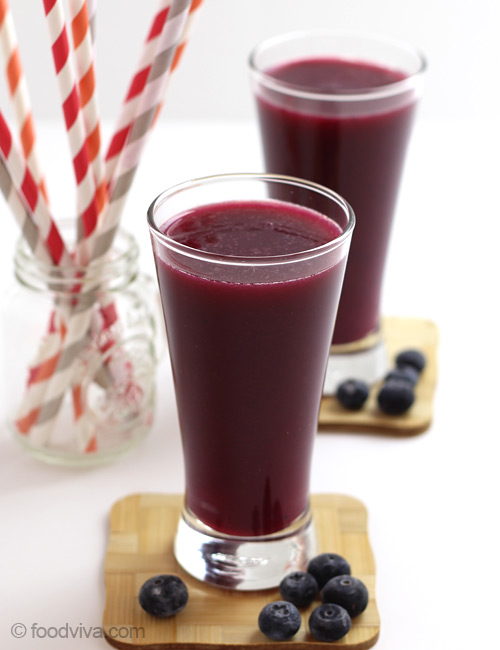 Preparation Time:
10 minutes
Ingredients:
1 cup Blueberry
1 Apple
1 Celery Stalk
1/2 Cucumber, optional
1/4 Beetroot
1/4 Lemon or Lime
1/2 cup Water
2-3 Ice cubes, optional
How to Make Juice without Juicer:
Rinse blueberries, apple, celery, cucumber and beetroot thoroughly in water to remove any debris.

Cut apple into large pieces and remove the core. Cut celery and cucumber into large pieces. Peel and cut beetroot into small pieces.

Pour 1/2 cup water and blueberries in a blender jar.

Add cucumber, apple, celery and beetroot in given order.

Blend all together until smooth puree.

Place a fine mesh strainer over a large bowl. Pour prepared puree over it. If the metal strainer is not available, you can also use a cheesecloth.

Use the spatula and gently press the prepared puree to collect the juice. Discard the remaining fibrous pulp.

Squeeze the lemon over prepared juice and add ice cubes. Stir well and pour prepared juice into chilled serving glasses.
Directions for Making Juice using Juicer:
Take a juicer and place an empty glass or a container under its spout.
Process all veggies and fruits alternatively through juicer.
Squeeze the lemon over prepared juice and stir well.
Fill up glasses with ice and pour juice over it, optionally garnish with mint sprig and serve.
Tips and Variations:
Add 1/4 cup strawberries for variation.
Use wild blueberries to make juice of wild blueberry.
Make organic blueberry juice by using organic blueberries, other organic veggies and fruits.
Serving Ideas:
Get all health benefits of this drink by serving it in the morning with breakfast or alone at any time of the day.