Raspberry has highest amount of dietary fiber, vitamin C and manganese. Just one cup raspberry will meet 50 % of body's daily need of 30 % of dietary fiber and vitamin C. This blushing pink raspberry banana smoothie is a treasure of health benefits. Capture this treasure in a glass of this sweet and sensual beverage and enjoy the summer.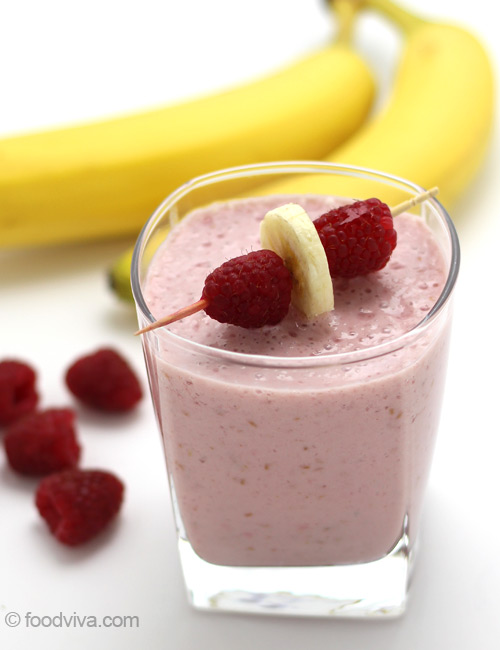 Preparation Time:
5 minutes
Ingredients:
1/2 cup Raspberries
1/2 fresh or frozen Banana, sliced
1/4 cup Plain Yogurt or Vanilla Yogurt
3/4 cup Almond Milk or Soy Milk or Normal Milk
1-2 teaspoons Sugar (or to taste)
Directions:
Choose the raspberries which are red and not mushy.

Add raspberries and banana in the a blender jar.

Pour almond milk over it and add plain yogurt and 1-teaspoon sugar.

Blend until smooth texture. Pour it into chilled serving glasses. Creamy smoothie is ready to serve. For garnishing, spear sliced banana, and raspberries with a toothpick and place it over glass.
Tips and Variations:
This recipe uses fresh raspberries and fresh banana however, you can use any one fruit frozen according to the availability and season.
Serving Ideas:
It is an ideal breakfast drink.