Smoothies are best way to enjoy fresh fruits and summer. Mango banana smoothie is once such thick and creamy smoothie that is prepared by combining world's two best fruits, mango and banana. Apart from these two fruits, this recipe also uses milk to make it thicker, creamier and richer sweet taste, you can also use orange juice instead of milk to get mild tangy touch.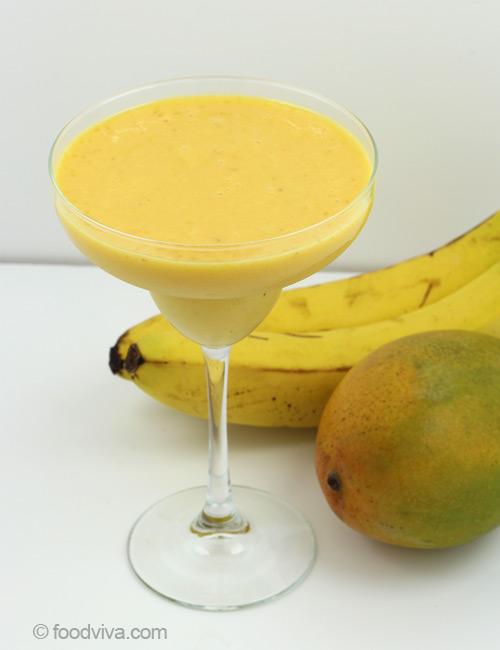 More Smoothie Recipes
Preparation Time:
10 minutes
Ingredients:
1 cup chopped Fresh Ripe Mango
1 fresh or frozen Banana, sliced
1/2 cup Milk or Orange Juice or Pineapple Juice
1 teaspoon Sugar or Honey
2 Ice Cubes
Directions:
Add mango chunks and banana pieces in a blender jar.

Add milk (or orange juice) and sugar.

Add ice cubes.

Blend until smooth and slushy texture. Pour prepared mango banana smoothie into two chilled serving glasses, garnish and serve with straw.
Tips and Variations:
Increase the quantity of milk (or orange juice) to dilute the smoothie.
Add milk to get sweet taste and add orange juice or pineapple juice to get sweet taste with mild tangy touch.
Serving Ideas:
Smoothie of mango and banana can be enjoyed at anytime of the day as healthy breakfast drink, delicious dessert or cool afternoon drink.