Orange Banana Smoothie is a unique combination of sweet and tangy fruit with carrot. This recipe is a finger licking creamy variation of orange smoothie. Learn how to make palate satisfying fruit concoction in this smoothie recipe.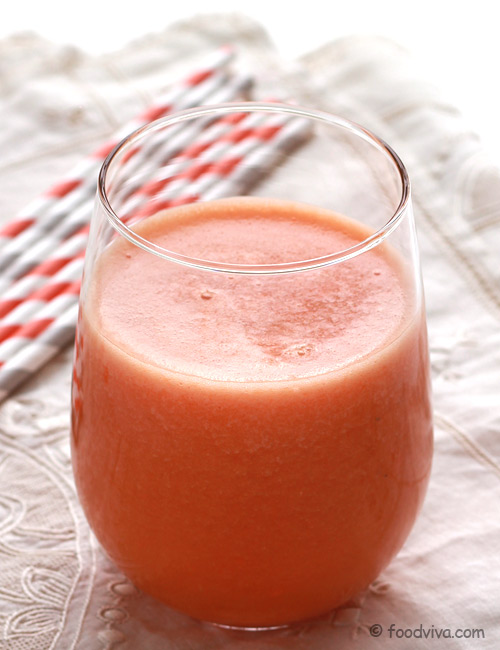 More Smoothie Recipes
Preparation Time:
10 minutes
Ingredients:
3/4 cup fresh Orange Juice (or 2 large oranges)
1 Banana, peeled and sliced
1/2 cup peeled and diced Carrot
3 Ice Cubes
Directions:
Cut the oranges into halves. Squeeze out the juice from halved oranges using an electric or hand citrus juicer. Peel and slice the banana. Peel and dice carrot into small pieces.

Add diced carrot in the jar of a blender or a mixer grinder.

Add sliced banana.

Pour orange juice over it.

Add ice-cubes.

Blend until smooth puree. Pour smoothie into a serving glass and serve immediately.
Tips and Variations:
If you want extra sweet taste, add 1-2 teaspoons honey.
Add 1/2 cup vanilla yogurt for variation.
Taste:
Mild sweet, tangy and creamy
Serving Ideas:
Serve orange juice banana smoothie as a healthy breakfast drink.