Get a powerful punch of vitamins and freshness in morning with citrusy grapefruit smoothie. This zesty concoction of grapefruit, orange and banana is a great way to freshen up the mood and start the day with high energy. Learn how to make low-fat, tasty and tempting smoothie with yogurt in this easy recipe.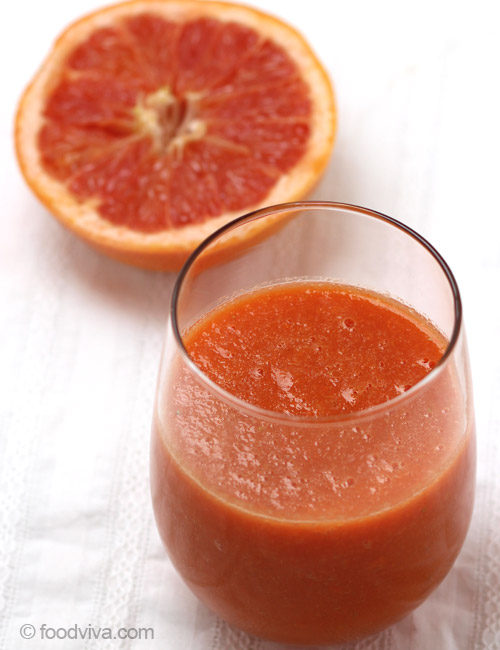 More Smoothie Recipes
Preparation Time:
10 minutes
Ingredients:
1/2 Pink or Red Grapefruit
1 Orange
2-3 Strawberries
2 small Carrot
1/4 cup Water
1 teaspoon Sugar
Directions:
Cut grapefruit and orange into halves, remove the skin and seeds and sectioned them. Peel carrots and cut into small pieces. Wash and clean strawberries and remove stems.

Pour 1/4 cup water in a blender jar to moving all ingredients easily while blending. Add grapefruit, orange, strawberries and carrot.

Add sugar and blend until smooth puree. Pour prepared grapefruit smoothie into a serving glass and serve.
Tips and Variations:
Add 1 banana to make the smoothie thick and less bitter.
You can also use grapefruit juice instead of grapefruit.
Taste:
Mild sweet and mild bitter taste of grapefruit.
Serving Ideas:
Grapefruit smoothie prepared with this recipe is a healthy and flavorful drink having perfectly balanced sweet and tangy taste. This makes it ideal to be served in the breakfast or with evening snacks.