Cranberry Smoothie Recipe
This is a healthy, sweet and tangy concoction of cranberry, almond milk, frozen banana and honey. Follow this cranberry smoothie recipe and make delicious and tempting icy chilled drink in minutes.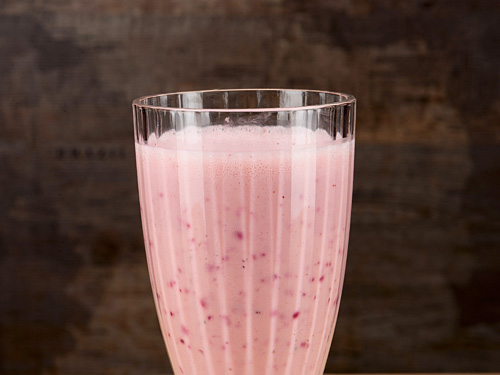 More Smoothie Recipes
Preparation Time:
10 minutes
Ingredients:
1/2 cup Fresh or frozen Cranberries
1/2 cup Almond Milk or Non Fat Milk
1/2 Frozen Banana, sliced
Ice Cubes
1 teaspoon Honey
Directions:
Transfer cranberry, almond milk, banana and honey to blender jar and blend until smooth puree.
Add ice cubes and blend again on high speed for around 15 seconds until smooth and slushy.
Pour it in chilled serving glass and serve.
Tips and Variations:
You can use 1/2 cup cranberry juice in place of whole cranberries. If you are using the juice, then also use 1 whole banana instead of just 1/2 banana.
Serving Ideas:
Serve it with light snacks as a refreshing and relaxing evening beverage.