Give a treat to a foodie in you; prepare yummy, creamy and healthy chocolate banana smoothie and savor the smooth chocolaty milk drink. Chocolate and banana are known for protein, vitamins and antioxidants and their pairing with calcium rich milk in smoothie provides a healthy dose of nutrients while soothing your taste buds.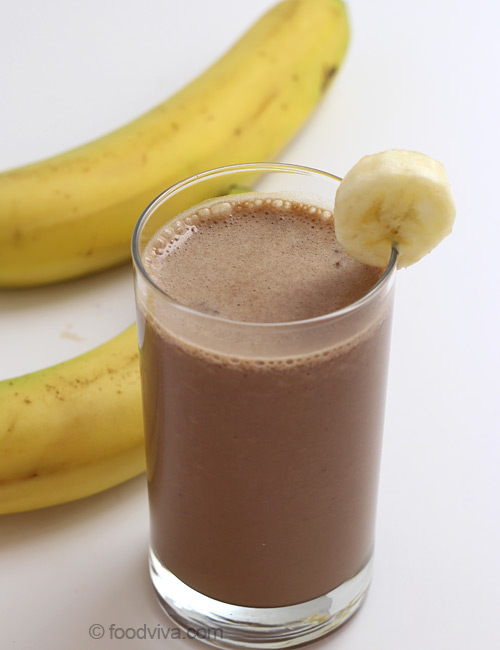 More Smoothie Recipes
Preparation Time:
10 minutes
Ingredients:
1 large frozen or fresh Banana, chopped
2-3 teaspoons unsweetened Cocoa Powder (to taste)
3/4 cup Milk
1 Ice Cube
1/2 tablespoon Honey or Sugar
Directions:
In this recipe, Hershey's unsweetened cocoa powder is used. If it is not available, you can use any other brand's sweetened or unsweetened cocoa powder. If you are using sweetened cocoa powder, increase the amount of cocoa powder to 1½ tablespoons and decrease the amount of sugar to 1 teaspoon or as per your taste.

Pour milk in a blender jar and add banana.

Add cocoa powder, sugar and a ice cube.

Blend until smooth and no chunks of banana.

Pour prepared chocolate and banana smoothie into a serving glass, garnish with chocolate shavings and serve.
Tips and Variations:
We have used Hershey's Cocoa Powder in this recipe however, you can use any available brand's cocoa powder.
You can add same amount of chocolate syrup in place of unsweetened cocoa powder. If you are adding chocolate syrup, add less sugar or honey.
To make thick smoothie, increase the amount of banana and use frozen banana instead of using fresh one.
Serving Ideas:
It can be served as stomach filling delicious afternoon beverage.