Chocolate Syrup, a must have ingredient for ice cream topping, cake garnish and preparing
chocolate milkshake
, requires only 5 ingredients and just 5 minutes to prepare at home. This Homemade Chocolate Syrup Recipe explains how unsweetened cocoa powder (Hershey or any other brand) is mixed with sugar, salt and water, cooked to perfection and then flavored with vanilla extract with detailed stepwise photos.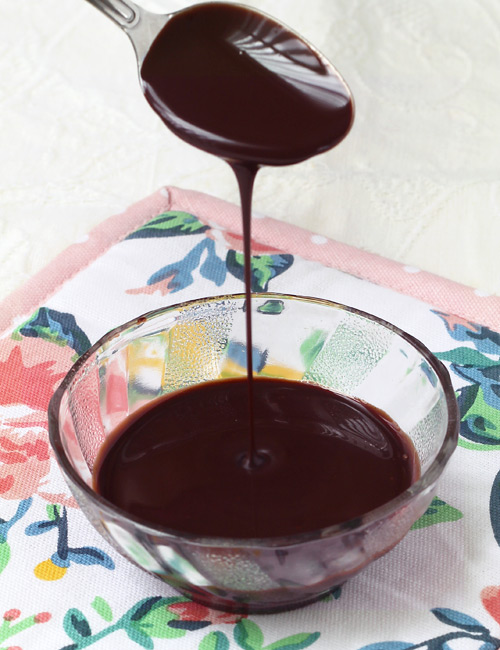 Preparation Time:
2 minutes
Ingredients:
3 tablespoon unsweetened Cocoa Powder
4 tablespoons Granulated Sugar
3 tablespoons Water
A drop of Vanilla Extract
A dash of Salt
Directions:
Take unsweetened cocoa powder and sugar in a medium sauce pan.

Mix them together with a spoon until well blended.

Add water and salt.

Stir well.

Cook raw cocoa mixture over medium heat until it starts to thicken (around 3-4 minutes) while stirring constantly. Don't over cook it (until mixture is very thick) because syrup will thicken as it cools to room temperature.

Remove pan from the heat. Add vanilla extract and mix well. Let it cool to room temperature. Transfer it to an airtight glass container and use immediately or store it in the refrigerator and use it within a month.
Tips and Variations:
To make chocolate syrup in large quantity – use 1 cup unsweetened cocoa powder, 1 cup water, 1¼ cup sugar, 1/4 teaspoon salt and 1/2 teaspoon vanilla extract. Whisk together all ingredients except vanilla extract and bring it to a boil over medium heat. Once it starts to boil, reduce heat to low and simmer it for 4-5 minutes or until thickens. Remove it from the heat and stir in vanilla extract.
Chocolate syrup will get thicker as it cools. So make sure that it does not turn too thick in step-5 mentioned above.
We have used Hershey's unsweetened cocoa powder in this recipe. However, you can use any brand's cocoa powder.
Serving Ideas:
Use chocolate syrup to garnish ice-creams and cakes, prepare
milkshakes
or chocolate smoothies.