Tired of having same old and boring cold coffee every day? Then try Coffee Milkshake instead. Brewed coffee mixed with cold milk and vanilla ice creams makes an amazing concoction that will make your taste buds happy. The hot chocolate syrup adds nice chocolaty flare to its amazing coffee flavor.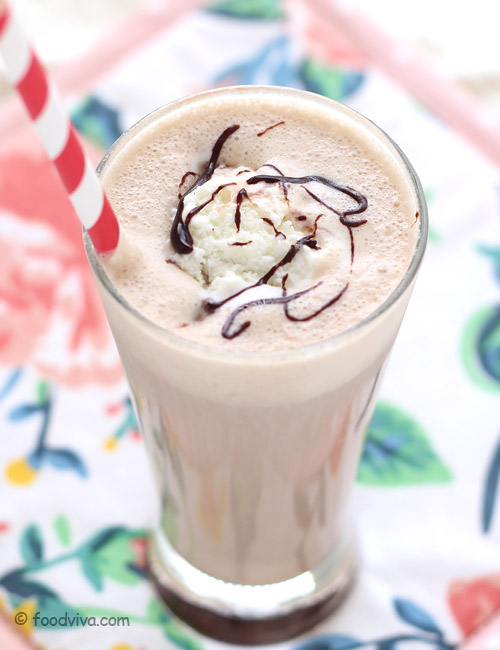 More Milkshake Recipes
Preparation Time:
5 minutes
Ingredients:
1/4 cup cold Brewed Coffee or 1/2 teaspoon Instant Coffee Powder
1/2 cup cold Milk
1/2 cup or 3 scoops Vanilla Ice Cream
1/2 tablespoon Chocolate Syrup or 1/2 tablespoon Cocoa Powder, optional
2 teaspoons Sugar
Directions:
If brewed coffee is not available, follow this step to make brewed coffee using instant coffee powder. Mix 1/2 teaspoon instant coffee powder with 1/4 cup hot water and stir until the powder dissolves. Cool the mixture before using in next step.

Pour cold brewed coffee in a blender jar.

Pour milk over it.

Add vanilla ice cream.

Add chocolate syrup (or cocoa powder).

Blend until frothy and smooth texture. Creamy coffee milkshake is ready. Pour it into a serving glass and garnish with ice cream and chocolate syrup.
Tips and Variations:
Make it as strong or light as you like it by using the strong or light brewed coffee.
For strong coffee flavor, use coffee ice cream instead of vanilla ice cream.
Serving Ideas:
Coffee ice cream milkshake is a perfect beverage to serve as an afternoon drink or as a light dessert.