Pineapple Shake, a sweet and tempting combination of pineapple, vanilla ice cream and milk, is very easy to prepare at home. In addition to these three basic ingredients, this pineapple milkshake recipe also uses banana to give it a thicker, smoother texture.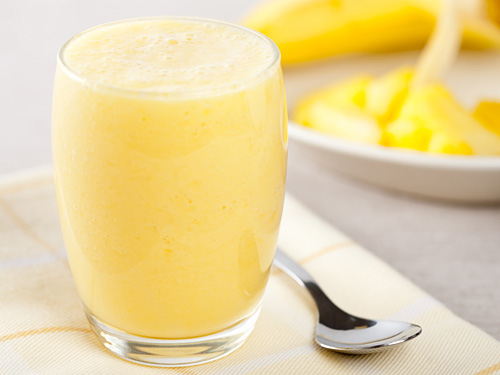 More Milkshake Recipes
Preparation Time:
7 minutes
Ingredients:
2 cups Pineapple Chunks (fresh or canned)
1 Banana
1½ cups Cold Milk
4 scoops Vanilla Ice Cream
Sugar
Directions:
In this recipe, we have used fresh pineapple chunks but you can use tinned pineapple chunks if fresh ones are not available.
Peel and cut banana into big chunks.
Combine pineapple chunks, banana chunks, milk and sugar (to taste) in a blender. Blend until all ingredients are well mixed and there are no fruit chunks in it.
Add ice cream and blend again on high speed until smooth.
Pour prepared pineapple shake into tall serving glasses and serve.
Tips and Variations:
Do not use banana if you don't like thicker shake.
Add more milk for thinner milkshake or add more fruit and vanilla ice cream for thicker shake. Add sugar based on the sweetness of pineapple.
Taste:
Sweet and mild tangy flavor of pineapple and vanilla.
Serving Ideas:
Enjoy this healthy drink as breakfast drink or as a cool afternoon beverage. You can serve it as a dessert too.