Want to have something creamy and healthy to drink for breakfast? Then look no further, Caramel Milkshake is one of the best stomach filling and healthy drinks to kick start your day. The caramel shake prepared with this recipe simply tastes magical due to addition of frozen banana and ice cream in its preparation.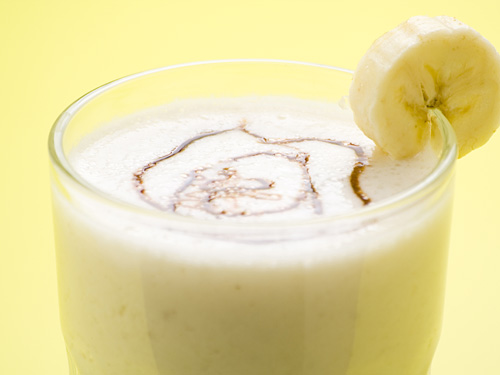 More Milkshake Recipes
Preparation Time:
5 minutes
Ingredients:
2 tablespoons Caramel Sundae Syrup
2 cups Cold Milk
1 Frozen Banana, sliced
4 scoops Ice Cream (vanilla or chocolate)
Directions:
Add sliced frozen banana, vanilla ice cream, milk and caramel sundae syrup in blender jar.
Blend at high speed until smooth and creamy texture.
Optional Step – Add 1/3 cup crushed ice and blend again if you like slushy smoothie like milkshake.
Transfer creamy caramel milkshake to serving glasses, drizzle caramel syrup over it and place banana wheel on the rim as garnish.
Tips and Variations:
This recipe uses banana to make special thick and creamy milkshake. However, if you do not like taste of banana, you can avoid it.
Use caramel sauce in place of caramel syrup if later one is not available.
Use fresh banana instead of frozen banana if frozen one is not available.
Serving Ideas:
Caramel shake prepared with milk and ice cream can be served with snacks or just by itself as relaxing evening drink. It can be served in breakfast as well.