Golgappa Puri, a round shaped small crispy puri that is small enough to easily fit in your mouth, is a basic ingredient in many chaat recipes like pani puri, dahi puri etc. This puri is hollow that allows you to make a hole on top and fill it with varieties of stuffing like boiled potato, sprouted moong beans, boiled chickpeas, ragda etc., top with sweet and spicy chutneys to make tongue tickling chaats. Many like to enjoy it alone by just adding boiled mashed potato, coriander, few drops of lemon and a sprinkle of chaat masala powder. Making golgappa puri at home is is easy but time consuming affair if you want to prepare it in large quantity and so generally, I prefer to buy them from grocery store. However, store bought ones are generally large or very hard and ruins the excitement just after few mouthfuls. However, with this step by step photo recipe of golgappa puri, making right sized melt in the mouth puris for panipuri at home is super easy.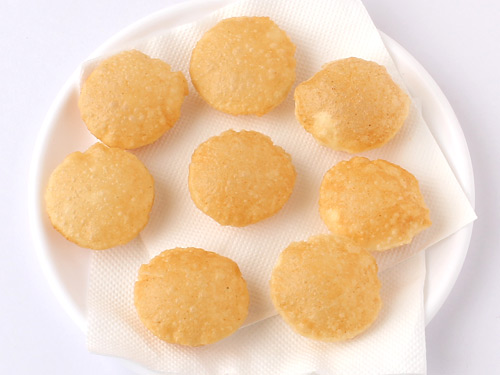 Preparation Time:
30 minutes
Ingredients:
1 cup Fine Semolina (rava/sooji)
2 tablespoons Maida (all purpose flour)
1/4 teaspoon Baking Soda
Salt to taste
Oil, for deep frying
A small round shaped Lid to cut puris
Directions:
Take semolina, maida, baking soda and salt in a wide mouthed bowl and mix well.

Add water in small incremental quantities and bind stiff dough.

Cover it with a damp cloth and keep aside for 20-25 minutes.

Remove the cloth and knead again until smooth texture.

Divide dough into 4 equal portions. Take each portion and give it a round shape like ball. Press it between your palms and place on rolling board.

Roll it out using a rolling pin into round shaped roti with thickness like phulka roti or chapathi (approx 1-2 mm). Do not roll it very thin or very thick. If it is very thin then puri will not puff up while deep frying and if it is thick then puri will not turn crispy after deep frying.

Make small round puris by cutting it using a round shaped small lid (approx. 2-2.5 inch diameter) as shown in photo.

Remove extra dough and mix it with remaining dough. Make puris from remaining dough.

Heat oil in a deep frying pan over medium flame for deep frying. When oil is medium hot, take 5-6 puris and slide them gently in oil (do not drop them together – do it one after another). Press each puri a little with spatula (to puff them up). Deep fry them until crispy and light golden brown. Remove and place them on paper napkin to absorb extra oil. Store them in an airtight container after they cool down and consume within 2-3 weeks.
Tips and Variations:
To make them crispy, bind the hard dough.
If you don't want to add baking soda, use soda water instead of plain water to bind the dough.
Either you can roll a large circle and cut the puris with a round shaped lid or divide the dough into approx. 35-40 small portions and roll each puri individually.
Make sure that rolled dough is not very thick or very thin.
After deep frying if there is any moisture in the puri then place them in a preheated oven (200 degrees F) for 15-20 minutes or keep in direct sunlight for 2-3 hours or until all moisture evaporates.
Taste:
 Mild salty and crispy