This is simple and mouth watering stir-fried bhindi in spicy gravy made from tomato, curd, cashew nuts, onion and typical Indian curry ingredients. The liquid gravy like texture of this bhindi preparation makes it suitable to be served with naan, tandoori roti or steamed rice. Learn how to make best bhindi masala gravy in this easy recipe.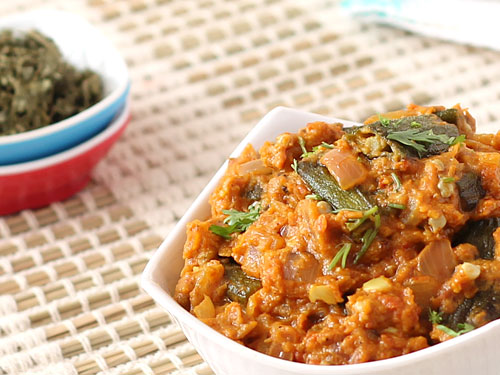 Preparation Time:
10 minutes
Ingredients:
250 gms (1/2 lb) Bhindi (Ladies Finger/ Okra)
3 medium Tomatoes, chopped
5-6 Cashew Nuts, optional
1 Green Chilli, seeded and chopped, optional
1/2 teaspoon Ginger, chopped
2 cloves of Garlic
1/2 teaspoon Fennel Seeds
1 large Onion, finely chopped
2 teaspoons Cumin-Coriander Powder
1/4 teaspoon Turmeric Powder
1/2 teaspoon Red Chilli Powder
1/4 teaspoon Garam Masala Powder
1/2 cup Curd (Yogurt) (not sour)
1½ tablespoons Coriander Leaves, finely chopped
1½ tablespoons + 3 tablespoons Oil
Salt to taste
Directions:
Crush cashew nuts in the small chutney jar of a mixer grinder to make medium coarse powder. Coarsely crush green chilli, ginger and garlic in the same jar and make a paste. Crush tomatoes in the same jar and make a smooth tomato puree.

Remove head and tail of each bhindi and cut it into 1.5-inch long pieces. Heat 1½ tablespoons oil in a pan over medium flame. Add bhindi and sprinkle some salt over it.

Shallow fry bhindi until it turns dark green and shrinks considerably from its original size (approx 6-8 minutes). Turn off the flame and transfer shallow fried bhindi to a plate.

Heat remaining 3 tablespoons oil in the same pan. Add 1/2 teaspoon fennel seeds, when they begin to crackle, add finely chopped onion and sauté until it turns light brown. Add green chilli–ginger-garlic paste (prepared in step-1) and sauté for a minute.

Add tomato puree (prepared in step-1) and cook until oil starts to separate.

Add 1/4 teaspoon turmeric powder, 1/2 teaspoon red chilli powder, 1/4 teaspoon garam masala powder and salt; mix well.

Add 1/2 cup curd, 2 teaspoons cumin coriander powder and crushed cashew nuts and mix well.

Add shallow fried bhindi and mix well.

Cook it over medium flame for 2-3 minutes.

Turn off the flame and transfer prepared curry to a serving bowl. Garnish bhindi masala gravy with coriander leaves and serve hot.
Tips and Variations:
Make sure that the curd is not sour else the curry will have mild sour taste.
Adjust the amount of green chilli and garlic to get your desired taste and make it more palatable.
Add 1-teaspoon sugar to balance out tangy flavor of curry.
Serving Ideas:
Serve it with naan or tandoori roti or chapati, rice and cucumber salad.