This is one of the richest curry preparations of Indian cuisine and it's outright delicious. Spicy bharwa bhindi cooked in generous amount of oil enlightens taste buds in every bite. The key sub ingredient in making it best is spicy bharwan (filling) made of dry roasted besan, groundnuts, sesame seeds and various other curry spices. Experience the richness of Indian traditional food today and satisfy your ever-craving palate.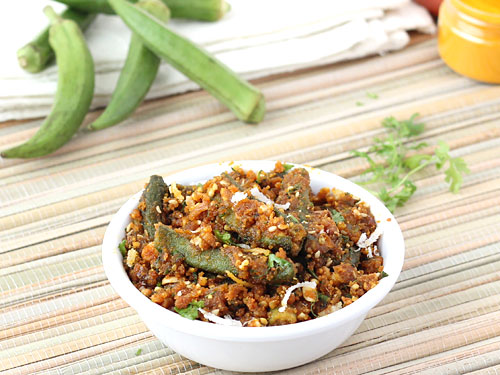 More Curry Recipes
Preparation Time:
10 minutes
Ingredients:
250 gms (or 1/2 lb) Bhindi (Ladies Finger/Okra)
1 Green Chilli, deseeded and chopped
1/2 inch Ginger, finely chopped
4 cloves Garlic
1/4 cup Gram Flour (Besan)
2 tablespoons Groundnuts, coarsely crushed
1 teaspoon Sesame Seeds
1 tablespoon Cumin-Coriander Powder
1/4 teaspoon Turmeric Powder
1 teaspoon Red Chilli Powder
1/2 teaspoon Garam Masala
2 teaspoons Lemon Juice
1 tablespoon Powder Sugar
1/2 teaspoon Cumin Seeds
2 tablespoons Coriander Leaves, finely chopped
2 teaspoons Dry Coconut, grated
1½ tablespoons + 3 tablespoons Oil
Salt
Directions:
Wash bhindi thoroughly in water and dry them using cloth or paper napkin. Crush green chilli, ginger and garlic into paste using mixer or pestle and mortar.

Dry roast gram flour in a kadai (pan) over low flame until it turns light brown and nice aroma starts to come (approx. 4 to 5 minutes). Stir constantly in between.

Transfer gram flour to a deep bowl. Add crushed green chilli, ginger and garlic, crushed groundnut, sesame seeds, cumin–coriander powder, turmeric powder, red chilli powder, garam masala, lemon juice, powder sugar, 1½ tablespoons oil and salt.

Mix well using a spoon or hand to prepare a stuffing.

Remove top and tail section of each bhindi and slit it length wise from one side (make sure to not to cut it into two pieces.) Take each bhindi and stuff it with approx. 1/2 to 1 teaspoon stuffing (prepared in 3).

Heat 3 tablespoons oil in a heavy based or non-stick pan (kadai) over medium flame. Add cumin seeds; when they begin to crackle, add stuffed bhindi. Sprinkle salt (only for bhindi because stuffing is already salted) over it and cook for a minute over medium flame. Stir once in between.

Reduce flame to low, cover and cook until bhindi is tender and turns dark green or for 5-6 minutes. Turn them between 2-3 times to prevent sticking and burning.

Remove lid and cook bhindi for a minute over medium flame.

Sprinkle coriander leaves and leftover stuffing masala over it and mix well.

Stir gently and cook for 2 minutes; turn off flame.

Transfer bharwan bhindi to a serving bowl and garnish with grated coconut. Serve as main dish with roti or naan.
Tips and Variations:
Choose small and tender bhindi for faster cooking and better taste.
If you are customizing this recipe as per your taste, then do not reduce the quantity of oil. Because without sufficient oil, it will not cook properly.
You can prepare stuffing in advance and store it in airtight container in refrigerator for 2-3 days. Not only this will reduce the cooking time, but also you can make this curry multiple times.
Never add water while cooking bhindi otherwise it will turn sticky.
Use of non-stick pan or heavy based pan is recommended for best results.
Taste:
Aromatic flavors of spices with amazing combination of sweet, sour and spicy tastes.
Serving Ideas:
Serve Indian bharwan bhindi with roti or chapati and cucumber raita for lunch. It can also be served with steamed rice and green mint chutney. It is popular across all parts of India but it's more famous in Gujarat state and it's locally known as Bharela Bhinda.