Rice is a staple food in many parts of India and there are many preparations that involve use of spices and additional ingredients which bring richness and palatability. Paneer rice or popularly known as paneer pulao, is one of the best rice recipes that is healthy, easy to prepare and can be served with various accompaniments and Indian curries. Unlike vegetable biryani, this spiced steamed rice with paneer, peas and other optional veggies is less spicy and less cumbersome to make at home by following our step by step photo recipe.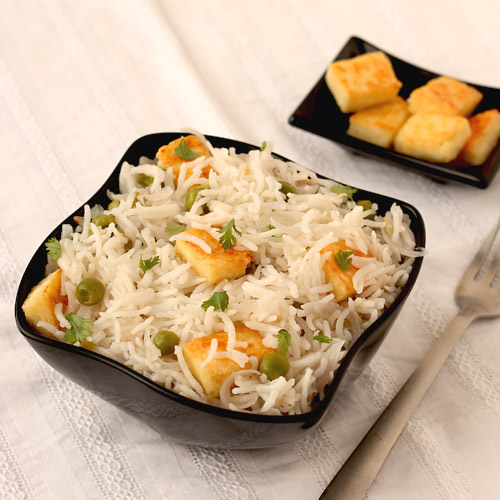 Preparation Time:
20 minutes
Ingredients:
1/2 cup Basmati Rice (long grained)
1/2 cup Paneer, cubed
1 large Onion, sliced
1 teaspoon grated Ginger
1/2 teaspoon crushed Garlic
1 Green Chilli, finely chopped
1/4 cup Green Peas (frozen or fresh)
1-inch piece of Cinnamon
2 Cloves
1 small piece of Bay Leaf
1 teaspoon Lemon Juice
1 cup Water
1/2 teaspoon or to taste Salt
1 teaspoon + 1 tablespoon Oil
1/2 teaspoon Ghee (clarified butter) (optional)
2 tablespoons Coriander Leaves, finely chopped
Directions:
Wash and soak basmati rice in 1-cup water for 15-20 minutes.

Heat 1 teaspoon oil and 1/2 teaspoon ghee in a pressure cooker (we used small size 2 liter cooker made of steel) over low flame. Ghee is used for enhancing the flavor of prepared rice. Sauté clove, cinnamon, bay leaf, crushed garlic and grated ginger in heated oil and ghee for 30-45 seconds.

Add green chilli and sliced onion, sauté until onion turns light brown.

Add green peas and soaked rice (drain them before adding), sauté for a minute.

Add lemon juice, salt and 1-cup water, mix well.

Pressure cook for 3-whistles over low-medium flame (number of whistles required may vary based on size and type of cooker you are using). Turn off the flame and let it sit idle for 10-minutes.

Meanwhile, heat 1 tablespoon oil in a non-stick frying pan and shallow fry paneer cubes until they turn light brown.

Once steam pressure inside pressure cooker comes down naturally, open it carefully and add fried paneer cubes. Mix well and transfer prepared rice to a large bowl.

Garnish spicy paneer rice pulao with fresh coriander leaves and serve with punjabi kadhi and kurkuri bhindi.
Tips and Variations:
We prepared delicious Indian paneer pulao using small 2.5 liter pressure cooker made with steel. You can use any size and type of pressure cooker to make it. However, you will have to adjust number of whistles and flame intensity based on your cooker type and size.
If you are using pressure cooker made of aluminum, then cook it over medium flame.
Add freshly cut vegetables like broccoli, capsicum, etc. to make mix pulav (pulao).
Amount of water required to cook rice differs based on quality and age of rice. If you are not using basmati rice, please follow instructions given on the rice pack you are using to determine the amount of water required.
Taste:
Mild spicy pulav with soft inside crisp outside paneer enveloped in nice complex aroma of spices