This stuffed Indian bread's outer layer is made from fiber rich whole-wheat flour while filling is made from protein rich lentil and spices. Stuffed chana dal paratha (yellow Bengal gram lentil) is a one of the delicious and stomach filling breakfast food that can energize your body and help you keep going for the day's activities. This step by step photo recipe of dal paratha is similar to any other stuffed paratha like
aloo paratha
in which you first prepare the filling and then dough and then combine them together to make stuffed paratha. However the main difference is in the filling – the mixture of cooked chana daal and carefully chosen spices make it a savory treat for taste buds.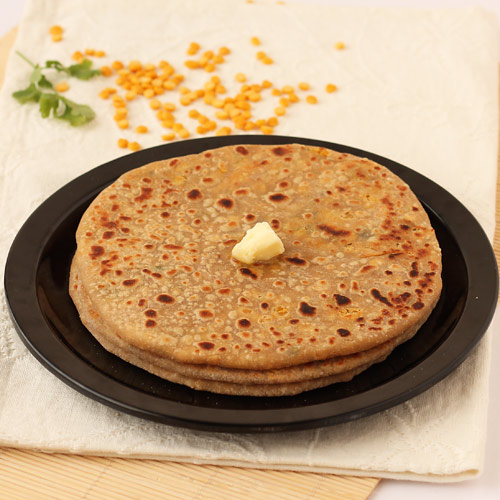 More Breakfast Recipes
Preparation Time:
35 minutes
For Stuffing:
1/2 cup Chana Dal (Bengal gram)
1/2 teaspoon Cumin Seeds
1/2 teaspoon grated Ginger (optional)
2 cloves of Garlic, crushed (optional)
1 Green Chilli, finely chopped
1/2 teaspoon Red Chilli Powder
1/2 teaspoon Coriander Powder
1/4 teaspoon Garam Masala Powder
1/4 teaspoon Dry Mango Powder (amchur powder)
4 tablespoons finely chopped Coriander Leaves
1 teaspoon Oil
Salt
1/2 cup Water
For Dough:
1 cup + 1/4 cup Wheat Flour or All Purpose Flour (maida)
1 tablespoon Curd (yogurt)
2 teaspoons Oil + for shallow frying
Salt
Water to knead a dough
Method for Stuffing:
Rinse chana dal and soak it in hot water for 35-minutes. Drain water and transfer it to a stainless steel or aluminum pressure cooker (3-liter capacity). Add 1/2 cup water and salt and cook for 2-whistles over medium flame.

Move away cooker from flame and let it stand for 5-minutes and pressure to come down naturally. Open the lid and transfer chana dal in a strainer and drain excess water. Make sure to not to over cook it otherwise dal will turn mushy.

Heat 1-teaspoon oil in a medium size pan over medium flame. Add cumin seeds, ginger, garlic and green chilli and sauté for 30 seconds.

Add cooked and drained chana dal, red chilli powder, coriander powder, garam masala powder, dry mango powder and coriander leaves.

Stir and cook the mixture until it turns little dry; it will take around 2-3 minutes.

Transfer it to a large bowl and let it cool for 5-minutes. Mash it with backside of a large spoon to prepare filling. Divide it into 5 equal portions.
Method for Paratha:
Take 1-cup wheat flour, curd, 1-teaspoon oil and salt in a medium size bowl and mix well. Add water as required and knead smooth and pliable dough. Grease the surface of dough with 1-teaspoon oil and knead again for a minute. Cover with a wet cloth and keep it aside for 10 minutes.

Take 1/4 cup dry wheat flour in a plate for coating and dusting. Divide dough into 5 equal portions. Take one portion, give it a round shape like lemon and press it between your palms to make a dough pattie.

Take one pattie and coat it with dry flour. Place it over rolling board and roll it out into 3-inch diameter circle. Place one portion of filling in the center and wrap it by pulling all sides toward top. Pinch out extra dough and again give it a shape of pattie.

Coat it with dry wheat flour and roll it out into 6-7 inch diameter circle. Do not roll it out into very thin paratha.

Heat tava (or griddle) over medium flame. Place raw paratha over heated tava. After a minute, flip it using spatula.

Apply 1/2 teaspoon oil on each side and shallow fry until light brown spots appear on both sides and paratha turns mild crispy. Transfer it to a plate and repeat the process (from step-5 to step-8) for remaining filling and dough balls.
Tips and Variations:
The filling should be dry. Do not add more water while cooking dal (in step-1) otherwise it will turn mushy and filling mixture will remain wet.
Curd is used for binding the dough and to make the outer layer soft.
You can also use moong dal instead of chana dal for variation. To use moong dal, do not soak it in water in step-1 and follow remaining directions as it is.
Serving Ideas:
 Spread a dollop of butter over dal paratha and serve it with plain yogurt or
chutney or raita
for breakfast or lunch.