Instant oats dosa, a healthy and easy to make mouthwatering crepe is a perfect breakfast dish. A simple and delicious dosa prepared from oats has many health benefits and helps maintaining balanced diet. Compared with traditional rice dosa, preparing oats dosa is quick and does not require any advance preparation – dry-roast oats, crush them into powder, mix curd, rava, spices, greens and water to prepare batter, spread it over hot tawa, cook for few minutes and voila! oats dosa is ready! its that simple!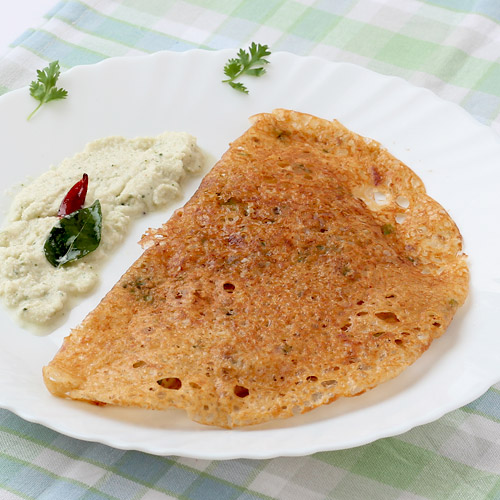 More South Indian Recipes
Preparation Time:
20 minutes
Ingredients:
3/4 cup Quick Cooking Oats
1/4 cup Rava (semolina/sooji)
1/2 cup Rice Flour
1/4 cup Curd, beaten (sour)
1 teaspoon Cumin Seeds
1/4 teaspoon Black Pepper Powder
1 teaspoon grated Ginger
1 Green Chilli, finely chopped
1 medium Onion, finely chopped
2 tablespoons finely chopped Coriander Leaves
Oil, for shallow frying
Salt to taste
Directions:
Dry-roast quick cooking oats over low flame in a pan until they turn slightly crisp or for approx. 4-5 minutes.

Turn off the flame. Transfer them to a plate and let them cool for 4-5 minutes. Grind them in a mixer-grinder until smooth powder texture. Transfer it to a large bowl.

Add rava, rice flour, beaten curd, cumin seeds, black pepper powder, grated ginger and salt in the bowl and mix well using spoon.

Add water (approx. 1½ cups or 1¾ cups, as needed) little by little to the mixture and mix well. It should have pouring consistency (like thick buttermilk or little watery than normal dosa batter). You can also keep a thick consistency like normal dosa batter. Cover it with a lid and keep aside for 20-minutes.

Add green chilli, onion and coriander leaves and mix well.

Now check for consistency since rava absorbs more water. Add more water (few tablespoons) if required and mix well. The batter should have pouring consistency (like thick buttermilk or like rava-dosa batter). You can also keep a thick consistency like normal dosa batter.

Heat non-stick dosa tawa over medium flame. To check whether tawa is medium hot or not, sprinkle few drops of water on the surface and if they sizzle immediately then it is ready. Wipe the surface of tawa/griddle using wet cloth. (Repeat this process before making each dosa to ensure that it is hot enough to place the batter.) Take ladle full batter and pour on the surface from the height of 3-4 inches in circular motion starting from edges towards center. Pour the batter evenly and into thin layer until it covers major open gaps on the surface of tawa. Maintain some small gaps here and there to make it crispy. Pour 1/2-teaspoon oil around edges of dosa. Cook until bottom surface turns light golden brown and crisp.

Flip and cook other side for a minute.

Oats Dosa is ready. Transfer it to a serving plate by folding it on either side. Stir the batter well before making each dosa and continue the cooking process by following steps from step-7 to step-9 for remaining batter.
Tips and Variations:
Add 1-tablespoon grated carrot, 1-tablespoon grated fresh coconut, 1-tablespoon grated beetroot and other preferred vegetables in batter (in step-5) to make healthy vegetable oats dosa.
You can store the crushed oats powder in a air-tight container and make dosa any time in just a few minutes.
To make dosas for kids, do not add green chilli.
To prevent oats dosa from sticking to the tawa, sprinkle 1/2-tablespoon finely chopped onion on the surface of tawa in step-7 before pouring batter.
Serving Ideas:
 Serve them hot with
green coconut chutney
or
onion chutney
any other chutney in breakfast. Pack your kid's lunch boxes with healthy oats dosa and potato bhaji.