Ragi (Finger Millet/ nachni) is a nutritious grain which is staple food in most of the South Indian states. It is generally milled into flour and then used to make ragi balls, ragi dosa, ragi roti, and so on and it is preferred food for diabetic patients and kids. This easy and step by step photo recipe of instant ragi dosa is all about how you can make this crispy and healthy south Indian style bread or crepe from the simple mixture of ragi flour, rice flour, yogurt, water and spices in just few minutes. The tips and variations given after the directions will help you make your own custom variations.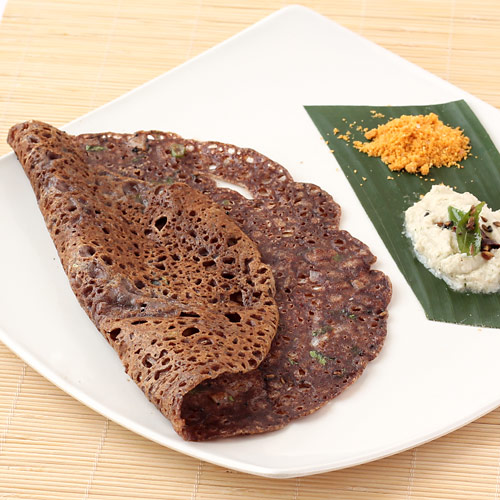 More Diabetic Food
Preparation Time:
35 minutes
Ingredients:
1 cup Ragi Flour (Finger Millet)
1/4 cup Rice Flour
1/4 cup Sour Curd
1 Onion, finely chopped
1 Green Chilli, finely chopped
1 tablespoon finely chopped Coriander Leaves
Cooking Oil, for shallow frying
1½ cups Water
Salt to taste
For Tempering:
1/4 teaspoon Mustard Seeds
1/2 teaspoon Cumin Seeds
5-7 Curry Leaves
1 teaspoon Oil
Directions:
Take ragi flour, rice flour, chopped green chillies and curd in a large bowl.

Add 1½ cups water and salt. Mix well and keep batter aside for 30 minutes to settle. Batter should have pouring consistency like buttermilk. If required, add more water to get the required consistency.

Add chopped onion and coriander leaves and stir to mix well.

Heat 1-teaspoon oil in a small pan for tempering. Add mustard seeds. When they begin to crackle, add cumin seeds and curry leaves. Remove pan from flame and pour tempering over batter.

Heat dosa tawa/griddle over medium flame. Stir the batter before making each dosa. When tawa is medium hot (see tips), smear oil on the surface, take ladle full batter and pour it over tawa (from the 2-3 inches height) from center to the side in circular motion. Try to keep few empty gaps in between to allow it cook evenly. Do not spread the batter. Drizzle 1-teaspoon oil around the edges of dosa and cook until color of top surface changes to brown, it will take approx. 1-minute over medium flame.

Ease out dosa with spatula and flip it over another side, cook for 30-40 seconds over medium flame.

Turn off flame. Fold crisp and hot ragi dosa and transfer to a serving plate and serve with coconut chutney.
Tips and Variations:
To check tawa is hot or not, sprinkle few drops of water over it and if they evaporate immediately then tawa is ready.
Use of Non-Stick tava or griddle is recommended for its preparation. If you are using a regular type of tava then dosa batter will stick to its surface and it would be difficult to flip and remove dosa without breaking it.
Batter for ragi dosa should not be as thick as normal dosa; it should have watery consistency.
Add 2 tablespoons grated carrot, 2 tablespoons chopped capsicum (in step-3) and other preferred vegetables to make it even healthier – perfect for kids.
Raagi is a preferred food for diabetic patients as it helps balance their insulin levels in the body. Dosa prepared with ragi is yet another way of enjoying its goodness.
Taste:
Little Crispy and Mild Spicy
Serving Ideas:
Serve hot homemade raagi dosa with green coconut chutney or red chilli coconut chutney and sambar for breakfast or evening snack.