Oats are known for their health benefits because of its dietary fibers, iron and cholesterol reducing agents. Oats upma is a fusion of western and Indian ingredients, which combines all health benefits of oats, fresh vegetables and Indian spices. This south Indian recipe of upma prepares a healthy dish that is suitable to be served to kids as well as heart and diabetic patients.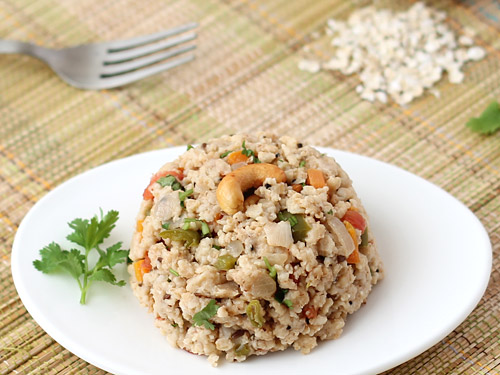 More Healthy Recipes
Preparation Time:
5 minutes
Ingredients:
1 cup Rolled Oats
1/2 teaspoon Mustard Seeds
1/2 teaspoon Cumin Seeds
1 teaspoon Chana Dal (optional)
2 sprigs Curry Leaves
1 medium Onion, finely chopped
1 Green Chilli, chopped
1/4 cup finely chopped Carrot
1/4 cup finely chopped Capsicum
1 Tomato, finely chopped
5-6 fried Cashew Nuts (optional)
2 tablespoons chopped Coriander Leaves
Salt to taste
2 tablespoons Cooking Oil or Ghee (clarified butter)
1¼ cups Hot Water
Notes:
If you want to use instant or quick oats, then add 3/4 cup water for 1 cup oats.
If you want to use steel cut oats, then add 2½-3 cups water because they absorb more water and take more time to cook compared to rolled oats.
Directions:
Roast oats in a pan or kadai until they change from white to light brown. Transfer them in a plate and keep aside.

Heat 2 tablespoons oil in the same kadai or pan. Add mustard seeds and cumin seeds. When seeds begin to pop, add chana dal and curry leaves. Sauté until dal turns light brown for approx. 1 minute. Add chopped onion and chopped green chillies, sauté until onion becomes translucent.

Add chopped carrot, chopped capsicum and chopped tomatoes, sprinkle salt over it and cook for 2-3 minutes.

Add and mix roasted oats and cook for a minute.

Add 1¼ cups hot water and stir for a minute.

When it starts to boil, cover with a lid and cook over medium flame.

Cook until water is absorbed and oats are cooked thoroughly for approx. 5-6 minutes.

Add chopped coriander leaves and cashew nuts and mix well.

Turn off flame and transfer healthy oats upma to a serving bowl.
Tips and Variations:
If you are using steel cut oats, then add 2½-3 cups water because they take more time to cook.
You can add vegetables like beans, green peas etc. to make it even healthier.
If you are preparing it for heart patient, use very little amount of oil or ghee and use cholesterol free butter.
Taste:
Salty and mild spicy taste of spices, vegetables and oats.
Serving Ideas:
Serve this healthy upma with tea in the morning for breakfast or as afternoon snack. It is a perfect healthy snack that can be packed in kid's lunch box.