Tomato soup is a healthy and popular tomato drink prepared using tomato and spices. It is generally served as an appetizer before the meal and can be made according to your taste and preference and in different varieties by using different spices and add on's. This garlic and black peppercorns flavored tomato soup recipe uses maida (or corn flour) to thicken the texture. It does not use basil and oregano to keep its spicy quotient lower, however, you can add them for a spicy treat. Follow our step by step photo recipe to make it at home.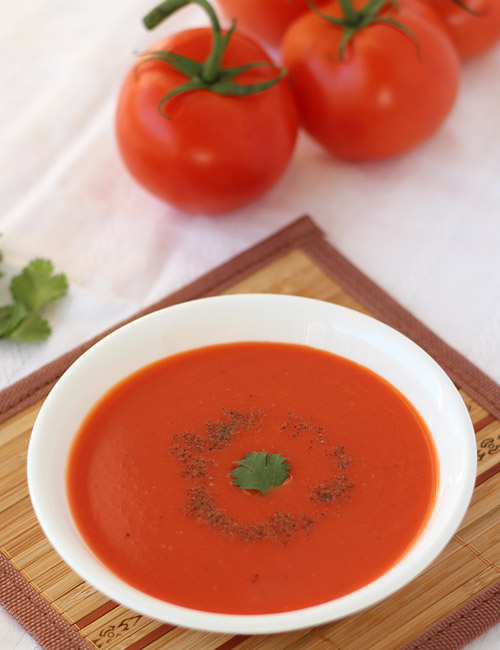 More Soup Recipes
Preparation Time:
5 minutes
Ingredients:
4 large Tomatoes
1½ tablespoons chopped Beetroot (or a small piece), optional
3-4 cloves of Garlic, chopped
7-8 Whole Black Peppercorns
A small piece of Bay Leaf, optional
1/2 tablespoon Butter
1 teaspoon Maida (all purpose flour)/ Corn flour
1 teaspoon Sugar (or to taste)
1½ cups Water
Salt to taste
Directions:
Dice tomatoes into quarters and beetroot into small pieces.

Add tomatoes, beetroot, garlic, black peppercorns and bay leaf in a medium saucepan or a 2-3 liter capacity pressure cooker. Add 1-cup water and salt and cook covered until beetroot and tomatoes turn soft. It will take around 8-10 minutes over medium flame. If you are using a pressure cooker, pressure-cook them over medium flame for 2 whistles.

When they turn soft, turn off the flame. Remove the lid and let the mixture cool at room temperature for a few minutes.

Discard the bay leaf and blend the mixture using a hand blender (stick blender) or in the jar of a mixer grinder until smooth puree. Be careful while making the puree, as the mixture is hot.

Strain prepared puree through a sieve or a strainer in a bowl. Discard the residue. Do not use a very fine strainer, as we need tomato pulp in the soup.

Heat 1/2 tablespoon butter in the same saucepan over medium flame. Add 1-teaspoon maida (all purpose flour).

Stir continuously and cook for a minute.

Add strained tomato puree little by little and stir continuously to avoid lumps formations. Add 1/2 cup water, 1-teaspoon sugar and mix well.

Bring it to boil over high flame. When it comes to rolling boil, reduce flame to medium and cook for 4-5 minutes. Taste for salt and pepper at this stage and add more if required. Turn off the flame. Tomato Soup is ready. Garnish with black pepper powder and coriander leaves and serve with bread croutons.
Tips and Variations:
Choose red ripe and less sour tomatoes to make this soup.
Adjust amount of sugar according to the sourness of tomato.
Add 1/4 cup chopped celery and 1/4 cup chopped carrot for variation.
If whole black peppercorns are not available, add 1/4 teaspoon black pepper powder instead of it in the last step.
Beetroot is added to enhance the deep red color of the soup and it doesn't affect the taste.
Do not add too much beetroot because it changes the color from deep red to light purple.
Add 2 tablespoons fresh cream after turning off the flame to get the mild sweet taste.
Serving Ideas:
Serve it with bread croutons as an appetizer before the meal or with bread sticks as light dinner. It can be also served with steamed rice and papad as a light evening food in dinner.