This is yet another variant of Rasam, which is a must have item with steamed rice in lunch or dinner in Southern India. In addition to being hot and spicy, Tomato Rasam also has a tangy flavor due to tomato. It is known as Tomato Charu in Tamilnadu and Thakkali Rasam in Kerala. Similar to
Pepper Rasam
, preparing Tomato Rasam at home is very easy and requires only few basic ingredients like tomato, black peppercorns, garlic, cumin seeds and few other common Indian spices. It can be prepared by using pre-prepared
Rasam Powder
or by using freshly ground masala of garlic, black peppercorns and cumin seeds. This Tomato Rasam Recipe uses the second approach to get the nice flavor and spiciness, and explains the process with step by step photos.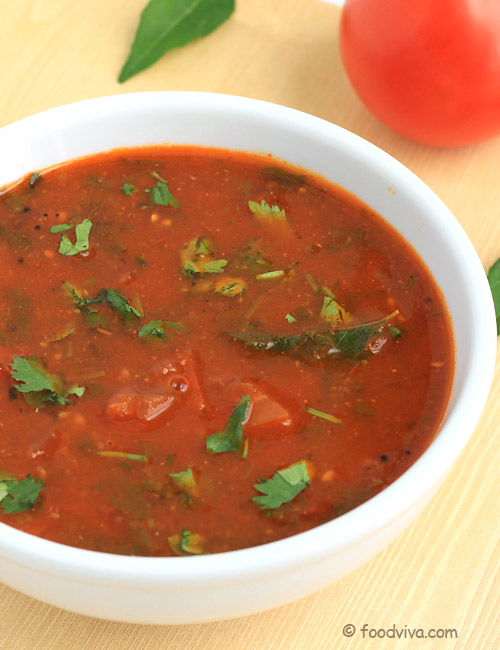 More South Indian Recipes
Preparation Time:
 5 minutes
Ingredients:
2 Tomatoes, chopped (approx. 1 cup)
2 Tomatoes, finely chopped (approx. 1 cup)
1 teaspoon Cumin Seeds
10-12 Whole Black Peppercorns or 1/2 teaspoon Black Pepper Powder
4-5 small or 2 large cloves of Garlic
1 tablespoon Oil
1/4 teaspoon Mustard seeds
A pinch of Asafoetida (hing)
5-6 Curry Leaves
1 Dry Red Chilli, broken into two and seeds removed (or Green Chilli)
3-4 tablespoons finely chopped Coriander Leaves (*)
1/2 teaspoon Red Chili Powder
1¼ cups Water
Salt to taste
Note:
Use coriander leaves with stems to make Tomato Rasam more flavorful. Stems gives the wonderful flavor to it.
Directions:
Chop 2-tomatoes into big pieces and 2-tomatoes into small pieces.

Add cumin seeds, black peppercorns and garlic cloves in the small jar of a grinder.

Grind them into a medium coarse paste. Transfer it to a small bowl. You can also use mortar and pestle to make the paste instead of using mixer grinder.

Add chopped tomatoes (2-tomatoes chopped into big pieces) in the same jar and grind until smooth puree.

Heat oil in a pan over medium flame. Add mustard seeds; when they begin to crackle, add asafoetida, dry red chilli and curry leaves.

Add cumin-black-peeper-garlic paste (prepared in step-3).

Sauté it for a minute.

Add tomato puree. Mix well and cook for 3-4 minutes.

Add 2 tablespoons chopped coriander leaves.

Add red chilli powder and salt. Mix well and cook for a minute. Add chopped tomatoes and cook for 1-2 minutes.

Add 1¼ cups water.

Mix and bring it to boil over medium flame. When it starts to boil, reduce flame to low and cook for around 4-5 minutes until mixture turns frothy.

Add finely chopped coriander leaves.

Turn off the flame and transfer it to a bowl. Serve with steamed rice.
Tips and Variations:
Add 1/2 cup boiled toor dal in the tomato rasam in step-11 for variation.
If the tomatoes are not sour, add tamarind pulp in step-12. To prepare tamarind Pulp, soak 1 teaspoon tamarind in 1-2 tablespoons hot water for 5-10 minutes, sieve and extract the tamarind pulp and discard the residue.
Add 1 teaspoon Rasam Powder in step-12 to make it extra spicy.
Taste:
Hot, spicy and tangy
Serving Ideas:
 Serve tomato rasam with plain steamed rice, fried papad and plain yogurt for lunch or dinner.