When onions, ginger, garlic, chana dal, urad dal, dry red chillies and curry leaves are sautéed in oil and pureed in blender, a delicious onion chutney is born. The tamarind paste and jaggery makes it simply irresistible as it provides sweet and tangy touch to spicy and aromatic flavor of ginger-garlic and curry leaves. The sautéed urad and chana dals makes it a typical south Indian fare and hence, it's a perfect condiment to be served with idli and dosa.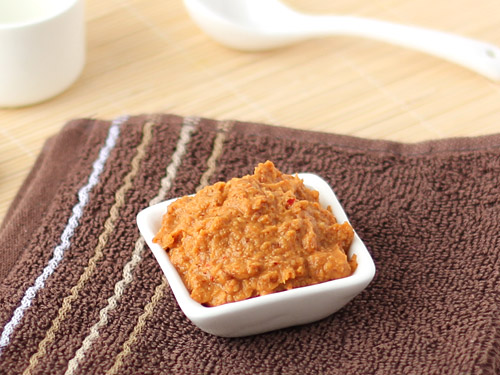 More Chutney Raita Recipes
Preparation Time:
4 minutes
Serves:
6 servings (1/2 cup)
Ingredients:
2 medium size Onions, finely chopped
3 Dry Red chillies, broken into pieces
1 teaspoon Urad Dal (Split Black Gram)
2 teaspoons Chana Dal (Split Bengal Gram)
3 Garlic cloves, chopped
1 teaspoon finely chopped Ginger
1/2 teaspoon Tamarind Paste
1/2 teaspoon grated Jaggery (optional)
1 teaspoon + 2 teaspoons Cooking Oil
Salt
Directions:
Heat 1 teaspoon oil in a pan over low flame. Add urad dal and chana dal and sauté until dals turn golden brown. Add dry red chillies and sauté for 20 seconds. Transfer them to a bowl.

Heat remaining 2 teaspoons oil in same pan and sauté chopped onion, chopped garlic, curry leaves and chopped ginger until onion becomes light brown or for approx. 1-2 minutes. Remove pan from heat and allow mixture to cool.

Transfer sautéed dal mixture and sautéed onion mixture to grinder jar or food processor. Add tamarind paste, jaggery and salt.

Grind until smooth paste. (Do not add water while grinding.)

Transfer prepared south Indian onion chutney paste to serving bowl and serve you're your favorite dosas and idlis.
Tips and Variations:
Sauté onion properly to get rid of its raw smell.
If dry red chilli is not available, then add 1/2 teaspoon red chilli powder in step 4 as a substitute of it.
Use sesame oil instead of any other cooking oil for a nice flavor.
Serving Ideas:
This Indian onion chutney for dosa and idli can also be served with steamed rice, chapati and your favorite curry as a yummy accompaniment.