Sheer Khurma is a delicious, rich and creamy vermicelli pudding made with fine vermicelli (sevai), dates, milk, and lots of nuts and flavored with cardamom, saffron and rose water. Sheer means 'milk' and khurma means 'dates (khajur)' in Persian language. This traditional Mughlai dessert is made during Eid, Ramadan.
This dessert has many ingredients but believe me, it's really easy to make for even beginners and doesn't require much cooking time compared to other traditional desserts. If you want something for large gatherings or parties then this one can be easily cooked in a large quantity and also can be prepared in advance.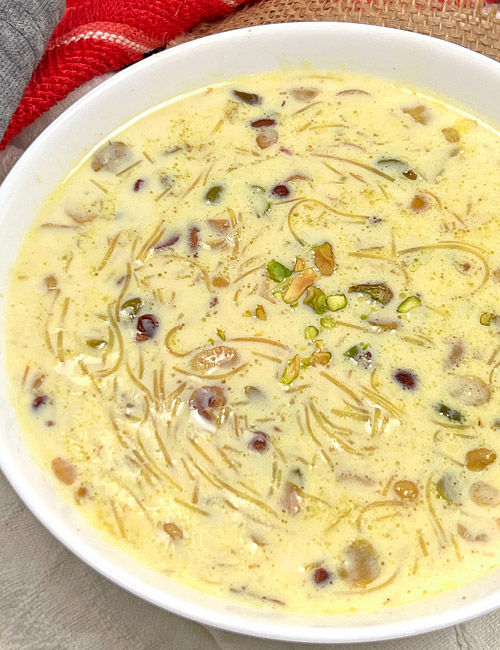 More Dessert Recipes
Preparation Time:
10 minutes
Ingredients:
4 cups (1 litre) Whole Milk (full fat milk)
1 cup Sevai (whole wheat thin vermicelli), broken
10-12 Saffron Strands (kesar), optional
12-15 Almonds
12-15 Cashew Nuts
15-20 Pistachios (unsalted)
7-8 Dates (or dried dates), finely chopped
2 tablespoons Golden Raisins (kismis)
1-2 tablespoons Chironji Seeds (charoli seeds), optional
1/2 teaspoon Cardamom Powder
3 tablespoons Sugar (or 4-5 tablespoons Condensed Milk) (more or less as per your taste)
2 tablespoons Ghee
1 teaspoon Rose Water, optional
Note:
If you are using dried dates(kharek) then soak them in water for 8-10 hours before using them. After soaking, cut them in half and remove the seed. Then finely chop them.
To speed up the process, you can use two pans. One for milk and another for roasting nuts and sevai. While the milk is heating in one pan you can roast nuts and sevai in another one.
Directions:
The process of soaking or blanching the nuts is optional. If you are in a hurry, you can skip step-1 and step-2. Either soak 12-15 almonds, 12-15 cashew nuts and 15-20 pistachios in enough water overnight or blanch them in hot water for 4-5 minutes in a pan. (In this recipe, we have blanched the nuts (boiled them in hot water for 4-5 minutes.)

Remove all the nuts from the water and peel the skin of almonds and pistachios.

Chop or thinly slice all the nuts.

Heat 1 tablespoon ghee in a pan over medium heat. Add sliced nuts(almons, cashew nuts, pistachios) and 2 tablespoons chironji. Roast them until they turn light golden for approx.1-2 minutes.

Add finely chopped dates (7-8 dates) and 2 tablespoons golden raisins.

Roast until the raisins will plump up for approx. 1 minute. Transfer them to a bowl.

Add 1 tablespoon ghee and 1 cup broken sevai (whole wheat thin vermicelli) to the same pan. Roast the sevai (vermicelli) until light golden brown in color, for around 2-3 minutes. Transfer the roasted sevai (vermicelli) to another bowl.

Heat 1 litre (4 cups) full fat milk in the same pan or another pan (kadai) over medium flame. Add 10-12 saffron strands (kesar). Bring it to a boil. Once it comes to a boil, lower the heat and cook the milk until it turns little thick, for around 7-8 minutes. Stir it at regular intervals for every 2 minutes to prevent sticking.

When it turns little thick, add roasted sevai (vermicelli) and 3 tablespoons sugar (or 4-5 tablespoons condensed milk). Mix well.

Let it cook for 3-4 minutes.

Add roasted nuts, 1 teaspoon rose water and 1/2 teaspoon cardamom powder.

Mix well and cook for 2-3 minutes. Turn off the flame.

Serve the sheer khurma warm or chilled. It will thicken as it cools down so if you are planning to serve it warm, cook until it turns little thick.
Tips and Variations:
Always use thin (fine/nylon) vermicelli to make sheer khurma. If it's not available, you can also use thick vermicelli.
Soaking/blanching the nuts is optional (in step-1 and 2). It doesn't make much difference in the taste.
Sweetness – Dates and raisins will also add sweetness in this dessert so adjust the amount of sugar as per the sweetness you like. So, start by adding 2 tablespoons of sugar and add more if required.
Serving Ideas:
Serve sheer khurma alone or along with
Puri
and
Aloo Matar Curry
as a meal in lunch or dinner.