You will rarely find someone who doesn't like rich and creamy shahi rabri (shahi rabdi) having nice aromatic flavor of kesar (saffron), and elaichi (cardamom). This recipe uses traditional cooking methodology to prepare nice and thick rabri that has delicious small pieces of solidified milk cream. The abundant usage of almonds and pistachio adds to it texture providing something to chew on in every spoon that in turn fills up your mouth with aroma of saffron.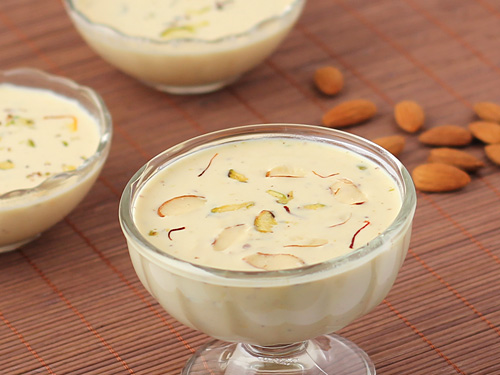 More Dessert Recipes
Preparation Time:
5 minutes
Ingredients:
1½ liters (50 oz) Milk (full fat)
2½ tablespoons Sugar
1/2 teaspoon Green Cardamom Powder
10 Almonds (badam), sliced
5-7 strands Saffron (kesar)
10 Pistachio, sliced
Directions:
Boil milk in a broad, heavy based, pan or broad non-stick pan over medium flame.

When milk starts to boil, reduce flame to low. Stir at regular intervals of 3-4 minutes but not continuously. When layer of a cream appears on the surface, shift it towards the side of a pan. Do the same process for next cream layers. Cook until milk is reduced to 1/3 of original quantity.

Add sugar and stir to dissolve it. Add cardamom powder, sliced almonds, saffron strands and sliced pistachio; mix well.

Scrape small cream chunks collected on the side of pan into milk (this will make delicious small cream chunks in rabdi). Cook for 2 minutes and turn off flame. Let it return to room temperature naturally. Refrigerate it for at least 2 hours before serving.

Transfer prepared sweet kesar rabri in serving bowl and garnish with sliced almonds. Serve chilled.
Tips and Variations:
Do not stir it too much while cooking otherwise you may not get its signature texture (very small chunks of cream in thickened milk).
Never use thin-based pan to cook it because milk will stick to the bottom and spoil the taste.
Add 1/2 cup ripe mango puree (homemade) in step-5 (before refrigerating) for nice mango flavor.
Add small paneer balls (grape sized) in step-4 (before refrigerating) for nice soft and chewy texture.
You can make it in lesser time by using readymade sweet condensed milk. However, it will not have texture comparable to one prepared with this recipe. If you are using sweet condensed milk, then reduce the quantity of sugar accordingly.
Taste:
Sweet, creamy and aromatic with nice texture of small cream pieces.
Serving Ideas:
This kesar and cardamom flavored shahi rabri can be enjoyed in many ways; either on its own or using it as sub ingredient in Indian sweet dishes like malpua and gulab jamun. Serve malpua or jalebi drenched in thick savory rabdi for an out of the world experience.