Brown Rice Pudding Recipe
Brown rice pudding is a healthier variation of white rice pudding and its made with brown rice. The brown rice adds a unique aromatic nutty flavor and a chewy texture to this creamy dessert. Make it in few minutes with this recipe and serve warm or cold, it's healthy and delicious either way.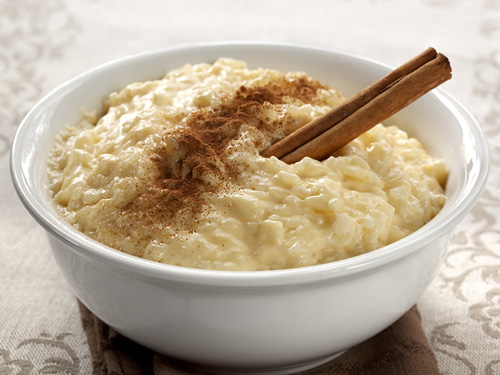 More Pudding Recipes
Preparation Time:
5 minutes
Ingredients:
2 cups cooked Brown Rice
3 cups Milk
2 tablespoons Raisins
1/4 cup Sugar
1 tablespoon unsalted Butter
1/2 teaspoon Ground Nutmeg
1/2 teaspoon Ground Cinnamon
Directions:
Combine cooked rice, milk, raisins, ground cinnamon and sugar in a saucepan.
Cook on medium-low heat until creamy and thick and milk is almost absorbed. It would take around 15-20 minutes. Stir frequently in between to prevent sticking.
Turn off heat, mix ground nutmeg and butter and stir well.
Transfer it to serving bowl.
Serve healthy brown rice pudding warm or place it in a refrigerator for 2 hours and serve chilled.
Tips and Variations:
Add chopped fresh fruits like banana, apple and strawberry in chilled pudding for added fruit flavor and variation in taste.
You can add 3 tablespoons maple syrup or 3 tablespoons honey in place of sugar for flavorful change.
The routine recipe calls for use of only raisins. However, experiment by adding roasted almonds or cashews for a rich experience.
Serving Ideas:
Serve it as a healthy breakfast or dessert for a healthy sweet ending for lunch or dinner.