Coconut Rice Pudding Recipe
Coconut rice pudding, a rich, creamy and thick dessert made with coconut milk, is famous across multiple continents. This simple and easy recipe uses skim milk which makes it even healthier and fun to eat, without worrying about additional fat in your diet. The coconut milk and vanilla extract used in this recipe adds delectable flavor to this traditional pudding.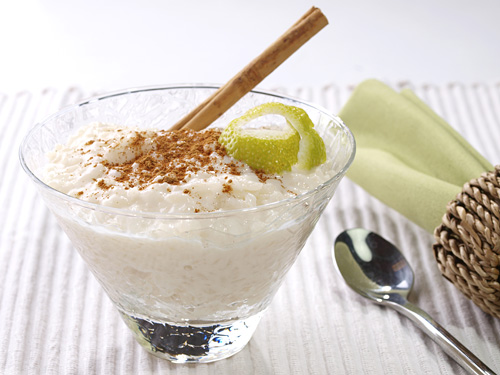 More Pudding Recipes
Preparation Time:
5 minutes
Ingredients:
1 cup Coconut Milk, unsweetened
1½ cups Cooked Short Grain Rice, unsalted
1½ cups Skim Milk
3-4 tablespoons White Sugar
1/2 teaspoon Vanilla Extract
1/4 teaspoon Ground Cinnamon
Directions:
Heat coconut milk, skim milk and cooked rice in a thick-bottomed saucepan and bring mixture to boil over medium heat.
When mixture starts to boil, add sugar and reduce the heat to low.
Simmer until mixture thickens and rice absorbs almost liquid for 12-15 minutes. Stir in between occasionally to avoid sticking. This pudding get thicker as it cools; hence, turn off heat when there is still some liquid remaining, otherwise it's texture will be very thick when cooled.
Stir in vanilla extract and ground cinnamon and let it cool at room temperature.
Pour it into 4 individual serving dishes.
If you like warm coconut rice pudding, serve it after cooling it at room temperature or place it in a refrigerator for 2 hours and serve it chilled.
Tips and Variations:
If you want to serve a warm pudding, then simmer it until rice absorbs the whole liquid and mixture become thick.
Add 1 tablespoon fresh grated coconut or its dry flakes in step 2 for extra flavor and texture.
Taste:
This thick and creamy dessert has lot of coconut flavor with mild touch of vanilla and cinnamon.
Serving Ideas:
Garnish it with apricots and serve with ice cream as a dessert. The traditional garnishing for it is toasted coconut shreds, sprinkle it on top for nice and tempting looks.