The vanilla flavored milk pudding made with cornstarch and egg is soft and smooth. Use of butter in this recipe makes it yummier while giving it a silky smooth texture which simply glides in your palate.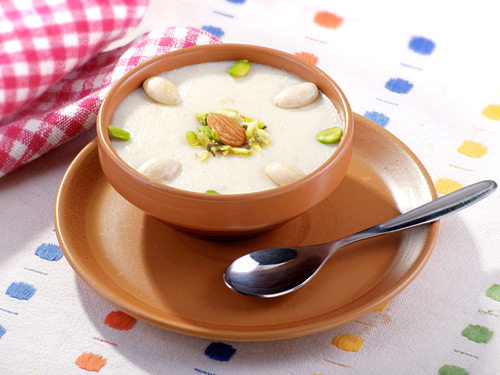 More Pudding Recipes
Preparation Time:
5 minutes
Ingredients:
1 cup Milk
2 tablespoons Cornstarch
1 medium Egg, slightly beaten
1 tablespoon Sugar (or to taste)
1 tablespoon Unsalted Butter, melted
1 teaspoon Vanilla Extract
Blanched Almonds and Pistachios, for garnishing (optional)
Directions:
Whisk together cornstarch and sugar in a small size saucepan.
Stir in milk gradually to avoid lumps.
Cook over medium heat until bubbles start to appear on surface (approx 1-2 minutes). Stir constantly in between.
Pour half of hot mixture in a bowl and add the beaten egg in it. Beat it until smooth.
Add prepared egg mixture in a saucepan having other half milk-cornstarch mix and cook on medium heat until it thickens. Stir constantly to prevent sticking. Check if it evenly coats the back of the spoon. If it does, then turn off heat otherwise cook it for some more time.
Takeaway saucepan from heat and stir in butter and vanilla extract.
Pour it into two individual serving bowls and let it cool at room temperature.
For warm milk pudding, proceed to garnishing. To serve it chilled, place it in a refrigerator for couple of hours.
Garnish warm or chilled pudding with blanched almonds and pistachio nuts and serve.
Tips and Variations:
In step-2 above, add milk slowly and keep stirring continuously to prevent formation of lumps.
Beating egg and milk-cornstarch mixture is an important step to achieve the desired creamy and silky texture. Beat it thoroughly until there are no lumps or grains.
Add green ground cardamom for nice flavorful variation.
Experiment with the garnishing; garnish it with chopped dry fruits and caramel topping instead of chocolate sauce for sweet and creamy caramel taste.
Serving Ideas:
This easy to make sweet delight will always satisfy your sweet cravings at anytime of the day. Serve it as a dessert.