Milk Peda is one of the popular Indian sweets which is usually made on the special occasions and festivals like Rakshabandhan, Diwali, etc. Traditionally, pedas are made from milk and sugar but that is very time consuming. But this is the instant version of milk peda which uses milk powder along with milk, and sugar and takes only 15-20 minutes. I have also added cardamom powder and kesar as well to enhance the flavor. Follow the below given recipe with tips to make the pedas at home.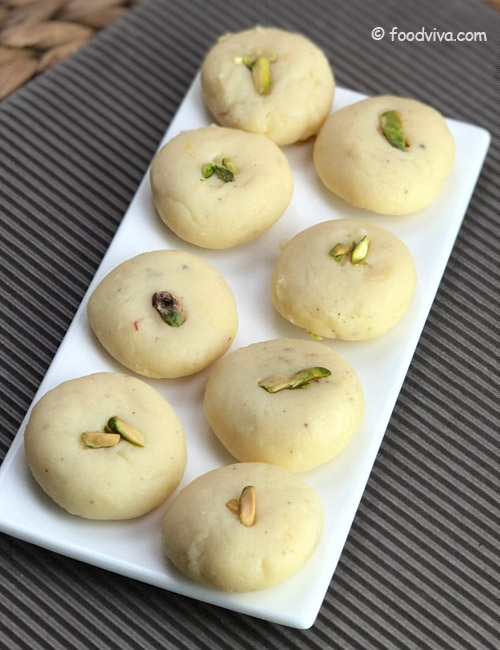 More Desserts Sweets Recipes
Preparation Time:
5 minutes
Serves:
6 servings (12 pedas)
Ingredients:
1 cup Milk Powder
1/2 cup Milk
10-12 Saffron Strands (kesar), optional
1/3 cup Powdered Sugar (or 1/4 cup)
2 teaspoons Ghee
1/4 teaspoon Cardamom Powder
1 tablespoon chopped Pistachio, for garnishing
Directions:
Take 1 cup milk powder and 1/2 cup milk in a non-stick pan or a heavy based pan. (DO NOT TURN ON THE GAS).

Mix well. Make sure that there are no lumps of milk powder.

Transfer the pan on the gas stove and turn on the gas. Add 10-12 saffron strands(kesar).

Mix well. Stir and cook over low flame until the mixture turns little thick, for 3-4 minutes.

Add 1/3 cup powdered sugar (or 1/4 cup for less sweet peda).

Add 2 teaspoons ghee.

Mix well. Stir and cook over low flame.

Cook until mixture turns thick (as shown in the picture), for 3-5 minutes.

Turn off the flame. Add 1/4 teaspoon cardamom powder.

Mix well. Let the mixture cool down for a while.

When the mixture is little warm, grease your palms with ghee. Take a small ball sized portion and give it a round shape.

Press it a little between your palms to flatten it.

Transfer it to a plate. Make all the pedas in a similar way and garnish with chopped pistachios. Milk pedas are ready. They might taste chewy when little hot so let them cool completely at least for 2-3 hours before serving.
Tips and Variations:
STORE -They stay good for 3-4 days at room temperature and 1 week in the refrigerator.
Mix the milk powder with milk completely before turning on the gas stove.
Cook the pedas on low flame and use a non-stick kadai or a heavy based kadai to avoid burning or sticking to the pan.
CHEWY PEDA – Pedas will be chewy when little warm, let them cool down completely for soft texture.
KESAR (saffron) – Adding kesar is optional. You can make the pedas without adding it.
Serving Ideas:
Serve pedas with chivda or any other namkeen snacks on special occasions or festivals like diwali.