It is a traditional Punjabi dessert prepared and enjoyed during festivals like Basant Panchami, Diwali, etc., and also served on auspicious occasions like marriage. Basmati rice and sugar syrup are the basic ingredients for Meethe Chawal but it is the carefully chosen assortment of Indian spices like green cardamom, cloves, cinnamon and kesar that makes it flavorful and aromatic. The dry fruits make it even more tasty and gives it mouth watering visual appeal. With this recipe's tastefully balanced ingredients, step-wise photos, tips and serving ideas, making this traditional Punjabi sweet yellow rice is child's play; even for those who are learning to cook.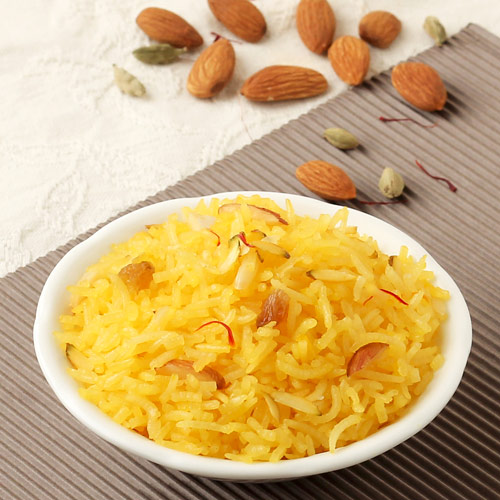 Preparation Time:
20 minutes
Ingredients:
1/2 cup Basmati Rice (long grained rice)
2 tablespoons Ghee
1/2-inch piece of Cinnamon
2 Cloves (lavang)
2 Green Cardamoms
1/3 cup Sugar
1/4 cup Water
10-15 Saffron Strands (kesar) dissolved in 1 tablespoon Milk
1/4 teaspoon Green Cardamom Powder
3 Almonds, sliced
3-4 Cashew Nuts, chopped
5-6 Raisins (kismis)
2 Pistachios, chopped
2 cups Water
Directions:
Rinse basmati rice in water for 3-4 times and soak it in water for 20-minutes. Boil rice with 2 cups water in a pan over medium flame until almost cooked (90% cooked) but not mushy for approx. 8-10 minutes. The time required to cook rice may vary among rice brands and age of the rice.

Transfer it to colander and drain water completely. Keep them aside until required.

Take a heavy based pan with lid. Add ghee and heat it over low flame. Add cinnamon, cloves and green cardamom, sauté for 30-40 seconds.

Add sugar and 1/4 cup water. Stir and cook for a minute.

Add dissolved saffron mixture and cardamom powder.

Stir and cook until sugar dissolves for approx. 1-2 minutes.

After sugar dissolves, bring mixture to a boil over medium flame. It will take around a minute. When it starts boiling, add cooked rice.

Mix gently until each rice grain is coated with sugar-saffron mixture and there are no lumps of white rice.

Reduce flame to low and cover it with a lid (or a plate). Cook until almost all moisture is evaporated, for approx. 5-6 minutes.

Turn off flame and let it stand for 7-8 minutes. Remove the lid and add almonds, cashew nuts, raisins and pistachios. Mix well and transfer sweetened yellow rice to serving bowl.
Tips and Variations:
Adjust sugar according to your taste.
You can also use short grain rice if long grain rice is not available. However short grain rice may form lumps that will make coating each rice with sugar difficult. Follow the tip given below to make separate rice grains.
To cook each rice grain separated, 1.rinse the rice 5-6 times in water before cooking. 2. add 1-teaspoon oil while cooking the rice and 3. always cook rice in a pot or pan (do not cook them in pressure cooker).
If you want to reduce the quantity of saffron then add a pinch of yellow food color to give it an identical hue.
Taste:
 Sweetened rice with aromatic fragrance.
Serving Ideas:
 Serve it as a dessert after meal or as a stand alone sweet dish.