Rice is a staple food in south India and there are various recipes which either calls for direct use of rice or in its some other form like flour, etc. However, among all rice recipes, ghee rice is best recipe due to its simple preparation and heavenly incomparable taste. This recipe is not just about mixing ghee in steamed rice but for preparing more delicious steamed rice wherein raw rice grains, nuts and flavoring spices are sautéed in ghee before cooking them in pressure cooker. The use of cardamom, bay leaf, black peppercorns and cloves simply makes it stand out from others.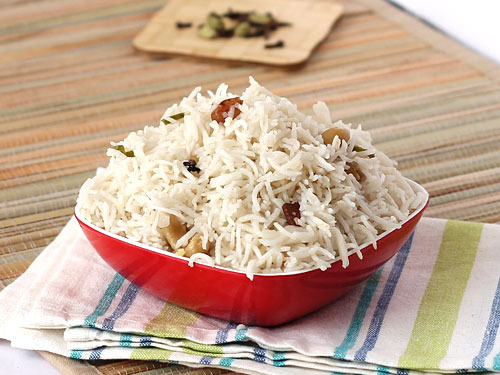 Preparation Time:
20 minutes
Ingredients:
1 cup Basmati Rice (long grain rice)
1 medium Onion, finely chopped
1 small Cinnamon stick
2-3 Cloves (lavang)
1 Green Cardamom
1/2 teaspoon Black Peppercorns
1 small Bay Leaf
4-5 Cashew Nuts
3-4 Raisins
1 teaspoon crushed Ginger-Garlic
1 Green chilli, finely chopped
1 tablespoon Ghee (Clarified butter)
2 cups Water
Salt
Directions:
Wash rice grains 2-3 times in water to remove excess starch. Soak them for 20 minutes. Washing them will also prevent them from becoming sticky while cooking. After 20 minutes, drain soaked rice.

Heat ghee in a pressure cooker (approx.3-5 liter capacity steel/aluminum cooker). Add cinnamon, cloves, cardamom, black peppercorns and a piece of bay leaf and sauté for few seconds.

Add chopped onion and sauté until it turns light brown.

Add cashew nuts, raisins, crushed ginger-garlic and chopped green chillies and sauté low flame for a minute.

Add drained rice in pressure cooker and stir-fry for a minute.

Add salt to taste and 2 cups water. Mix them properly and close the lid. Pressure cook on low flame for 2 whistles.

Turn off the flame and let pressure come down naturally. It will take approx. 5-8 minutes to come down. Open lid carefully and fluff rice with fork to separate rice grain.

Transfer it to serving bowl and serve.
Tips and Variations:
In this recipe, steel pressure cooker with 3-litre capacity is used. If you want to use aluminum pressure cooker then pressure cook it on medium flame.
If you do not have pressure cooker then cook it in a pan. Add same amount of water and cover it with a lid while cooking for around 10-12 minutes.
You can prepare it in more quantity by simply using rice and water in 1:2 ratio (i.e. for every 1 cup rice use 2 cups water).
Add few drops of lemon after adding water to make separated cooked rice grains.
Taste:
Very mild spicy with nice aroma of ghee.
Serving Ideas:
Enjoy South Indian ghee rice with curd. It is more delicious and palate satisfying when served with pickle, Dal and tomato chutney.