Simple Curd Rice can be prepared with steamed rice and plain curd or with additional tempering of urad dal, mustard seeds, chillies, coriander leaves and steamed rice. This recipe uses the second method to make it tastier. It is a "must have" item as part of lunch or dinner in south Indian household and can be prepared instantly in short amount of time with very little effort. This recipe is an ideal Bachelor's recipe for stomach filling instant food preparation at any time.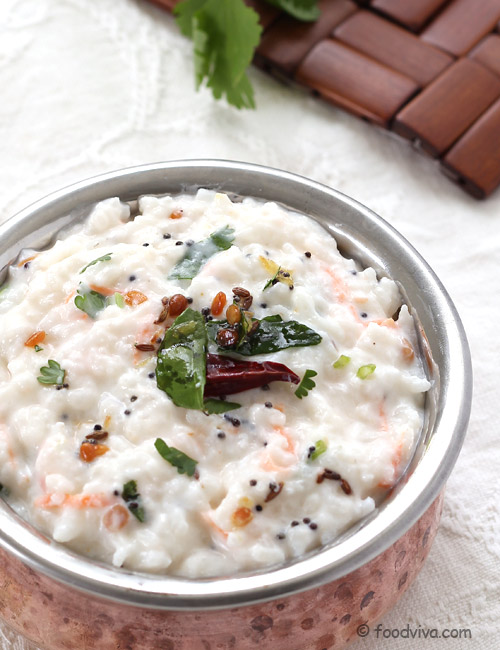 More South Indian Recipes
Preparation Time:
5 minutes
Ingredients:
1/2 cup Raw Rice or 2 cups Cooked Rice
1 cup Curd (Yogurt)
1/2 cup Milk
1 teaspoon Mustard Seeds
1/2 teaspoon Urad Dal (split black gram)
1/2 teaspoon Cumin Seeds
1/2 teaspoon grated Ginger, optional
7-8 Curry Leaves
1 Dry Red Chilli, halved (or 1 Green Chilli)
3 tablespoons grated Carrot, optional
2 tablespoons finely chopped Coriander Leaves
1½ tablespoons Oil
Salt to taste
Directions:
Rinse the rice in water for 3-4 times and drain excess water. Add rice, 1½ cups water and salt in a 3-liter capacity aluminum/steel pressure cooker. Close the cooker with a lid and pressure cook the rice for 4-whistles over medium flame or until the rice turns soft. Cooked rice should have mushy texture. Turn off the flame and let the pressure comes down naturally. Open the lid and let the rice cool down at room temperature. Prepare the rice at least 2-hours in advance before making the curd rice.

Heat the oil in a small tempering pan. Add mustard seeds and cumin seeds. When they start to splutter, add urad dal and sauté until dal turns golden brown. Add grated ginger, curry leaves and halved dry red chilli.

Sauté for a minute. Turn off the flame and let the tempering cool at room temperature.

Mix steamed rice and salt (only add salt if it is not added while cooking) in a bowl and mash them a bit with backside of the spoon.

Add curd.

Mix them well.

Pour milk over it.

Stir with a spoon to mix well.

Pour tempering mixture over it. Add grated carrot and finely chopped coriander leaves.

Mix properly with a spoon. Curd rice is ready, transfer it to a serving bowl and serve it chilled.
Tips and Variations:
Add chopped onion, chopped cucumber and pomegranate seeds for variation.
Milk is optional, you can avoid it if you want to.
Make sure that curd is not sour because it may change the taste of a dish.
Mix curd in the rice just before serving.
Taste:
Salty with soft texture
Serving Ideas:
Serve curd rice as stand alone dish with papad and pickle. It can also be served after meal.