Popular Mysore rasam is a classic combination of spicy, tangy and mild sweet flavor that gives a real treat to your taste buds. Tamarind, jaggery and coconut milk make this rasam slightly sweet and sour in taste while rasam powder makes it spicy and aromatic. In this stepwise photo recipe, freshly grounded spices powder is used to make it flavorful.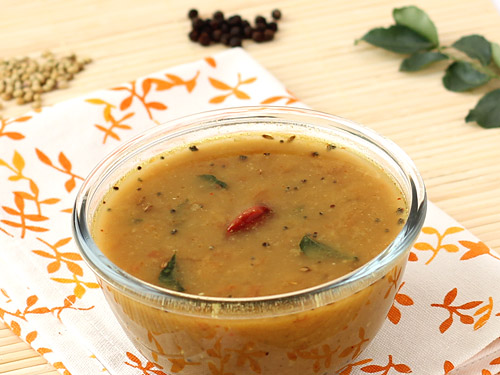 More South Indian Recipes
Preparation Time:
5 minutes
Ingredients:
For Rasam Powder
1 tablespoon Chana Dal
1 tablespoon Coriander Seeds
1 teaspoon Cumin Seeds
1/2 teaspoon Black Peppercorns
1 Dry Red Chilli, halved
1 teaspoon Oil
For Rasam
1/4 cup Toor Dal (arhar dal)
3 tablespoons grated Fresh Coconut
1/2 tablespoon seedless Tamarind
2 small Tomatoes, finely chopped
A pinch of Turmeric Powder
1 tablespoon Powdered Jaggery
2 tablespoons finely chopped Coriander Leaves
Salt to taste
For Tempering
1/2 tablespoon Oil
1/2 teaspoon Mustard Seeds
1/2 teaspoon Cumin Seeds
1 Dry Red Chilli, halved
1/8 teaspoon Asafoetida
5-6 Curry Leaves
Directions for Making Powder:
Heat 1-teaspoon oil in a pan and add chana dal, coriander seeds, cumin seeds, black peppercorns and dry red chilli. Roast them over low flame until nice aroma starts to come, for approx. 1-2 minutes. Transfer them to a plate and let them cool for 4-5 minutes.

Transfer roasted ingredients to a grinder jar and grind until smooth powder texture. Keep this rasam powder aside until required.
Directions for Making Rasam:
Wash toor dal in water and pressure-cook it with 3/4 cup water in an aluminum pressure cooker of 3-4 liters capacity over medium flame for 3-whistles. Let it stand until pressure releases automatically for approx. 5-7 minutes. Open the lid and keep it aside. Mash the dal with backside of a large spoon.

Meanwhile, prepare coconut milk. Grind grated fresh coconut with approx. 3-tablespoons hot water in a grinder or blender until smooth texture. Pass it through strainer to extract coconut milk in a small bowl. Keep it aside until required.

Immerse tamarind in 1/2 cup warm water for 4-5 minutes. Mash it with spoon or your hand and pass through strainer to extract tamarind juice in a small bowl. Discard the remaining solids.

Add tamarind juice, finely chopped tomatoes, turmeric powder, powdered jaggery and salt in a pan and bring it to boil over medium flame.

When it starts to boil, reduce flame to low and cook until raw smell of tamarind goes away or for approx. 4-5 minutes.

Add pressure-cooked toor dal, rasam powder (prepared in step-2) and 1½ cups water.

Stir well and cook over medium flame until mixture turns frothy for approx. 3-4 minutes.

Meanwhile, prepare tempering. Heat 1/2 tablespoon oil in a small tempering pan over low flame. Add mustard seeds. When they start to crackle, add cumin seeds, dry red chilli, curry leaves and asafoetida and sauté them for 10-20 seconds. Remove pan from flame and pour the tempering over cooked dal mixture.

Add coconut milk (extracted in step-2) and mix well. Turn off flame.

Transfer it to a large bowl and garnish with finely chopped coriander leaves.
Tips and Variations:
Prepare rasam powder, coconut milk and tamarind juice while dal is cooking to speed up the process.
Do not boil rasam for longer period after adding coconut milk otherwise it may curdle.
To make less spicy rasam, do not add dry red chilli while making rasam powder.
Serving Ideas:
Serve it hot with steamed rice and papad in lunch or dinner as healthy and light meal. It is wholesome accompaniment with curd rice.