It is a kind of hot and spicy South Indian style soup which is not only good for digestion but also works as best home remedy for sore throat and cold during winter months. Pepper rasam is very easy to prepare and doesn't take much time to make a healthy stomach filling meal when served with steamed rice. This step by step photo recipe uses black pepper, tamarind, cumin seeds and garlic that plays major role in giving it a spicy character.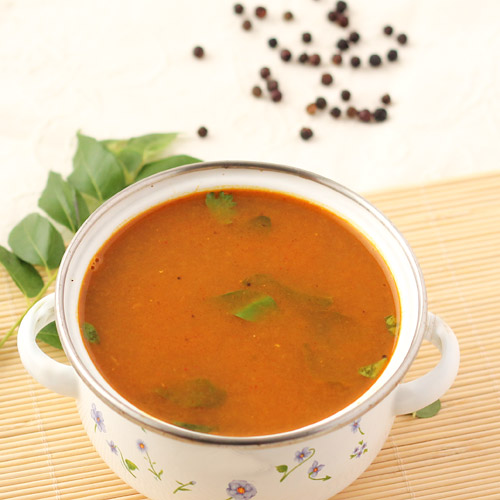 More South Indian Recipes
Preparation Time:
10 minutes
Ingredients:
1 tablespoon Tamarind
1/4 teaspoon Mustard Seeds
1/2 teaspoon Cumin Seeds
A small pinch of Asafoetida (optional)
2-3 Garlic Cloves, crushed (optional)
1 sprig Curry Leaves
1 Dry Red Chilli, halved
1 Tomato, finely chopped
1/4 teaspoon Turmeric Powder
1/2 tablespoon Oil
1/2 cup + 2 cups Water
Salt to taste
2 tablespoons finely chopped Coriander Leaves
For Spices Powder:
1/2 teaspoon Oil
2 teaspoons Tuvar Dal (red gram dal) or Chana Dal (optional)
1½ teaspoons Whole Black Peppercorns
1 tablespoon Coriander Seeds
1/2 teaspoon Cumin Seeds
1 Dry Red Chilli
Directions:
Soak tamarind in 1/2 cup warm water for 5-minutes. Mash it with hand or a spoon and sieve through strainer. Extract the tamarind juice and discard residues.

Heat 1/2 teaspoon oil in a medium pan over low flame. Add and roast tuvar dal, black peppercorns, coriander seeds, cumin seeds and dry red chilli for 1-2 minutes until nice aroma starts to come. Transfer to a plate and let it cool for 3-4 minutes.

Grind all roasted ingredients together in a grinder until smooth powder.

Heat oil in a deep pan over medium flame. Add mustard seeds. When they begin to splutter, add cumin seeds, asafoetida, crushed garlic, curry leaves and dry red chilli. Cook for few seconds. Make sure garlic doesn't burn while sautéing.

Add tamarind juice (prepared in step-1) and chopped tomato.

Cook for 5-6 minutes over low flame, stir occasionally in between.

Add spices powder (prepared in step-3) and turmeric powder.

Stir well and cook for a minute.

Add 2 cups water and salt. Mix and bring it to boil over medium flame. When it starts to boil, reduce flame to low and cook for 2-3 minutes.

Turn off the flame. Transfer it to a serving bowl and garnish with finely chopped coriander leaves.
Tips and Variations:
Tuvar dal is an optional ingredient in this recipe, it is used for little thick texture to the spicy pepper rasam.
If you do not like it to be spicy then do not add dry red chilli in step-4.
Make sure that you do not boil for very long time in step-7 otherwise the flavor and aroma of spices will be affected.
Some people like it without tomato. If you are one of those then do not add tomato in step-5 above.
Store dried spices powder prepared in step-3 in a sealed jar and use it anytime to prepare pepper rasam at home anytime.
Serving Ideas:
 Serve it with hot steamed rice or pulao. It is also known as milagu rasam and can be enjoyed as a soup with healthy wheat bread.