Once you introduce your taste buds to this Andhra style coconut chutney, it will quickly become your favorite dip to pair with dosa, idli, vada, rice or just about anything crunchy and snakcy. In this authentic kobbari pachadi recipe even fresh coconut is sautéed in oil along with dals, chillies before grinding with tamarind paste. The tempering of mustard seeds, curry leaves and urad dal gives nice flavory touch to hot and tongue tickling taste of chutney.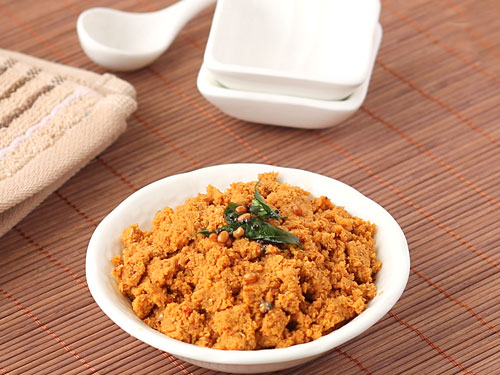 More Andhra Recipes
Preparation Time:
10 minutes
Ingredients:
For Chutney
1/2 cup small pieces of Fresh Coconut
2 teaspoons Chana Dal (Split Bengal Gram)
1 teaspoon Urad Dal (Split Black Gram)
2 teaspoons Coriander Seeds
2 Green Chillies, chopped
2 Dry Red Chillies, broken into pieces
1/4 inch Ginger, chopped
1/2 teaspoon Sugar
1 teaspoon Tamarind Paste
3 teaspoons Oil
Salt
For Tempering
1/4 teaspoon Mustard Seeds
1/4 teaspoon Urad Dal (Split Black Gram)
4-5 Curry Leaves
1 teaspoon Oil
Directions:
Sauté chana dal, urad dal and coriander seeds until dals turn light brown in 3 teaspoons oil.

Add dry red chilli, green chilli, ginger and sauté for 30-40 seconds.

Add coconut pieces and sauté for 2 minutes. Transfer to a plate and let it cool down to room temperature. (After turning off flame, do not keep sautéed mixture in pan because pan stays hot for long time and mixture may burn slightly.)

Grind cooled sautéed mix with tamarind paste, sugar and salt into a medium coarse paste using grinder. If required add 1 tablespoon water. Do not add more water and keep medium coarse consistency. Transfer it to a bowl.

Heat 1 teaspoon oil in a small tempering pan (or in a previously used pan). Sauté mustard seeds until they start to crackle. Add urad dal and curry leaves; when dal turns golden brown.

Remove pan from stove/gas and immediately pour it over chutney in a bowl. Andhra style kobbari chutney is ready; serve it with steamed rice for satisfying south Indian meal.
Tips and Variations:
Keep chutney to a medium coarse texture; do not grind it until a smooth paste in step-4.
Use stone mortar and pestle to grind and mix all ingredients for a nice texture and taste. This gives it a more delicious flavor than food processor or mixer grinder.
Serving Ideas:
Serve it as an accompaniment with rice and sambhar.