Idli and Dosa are among the healthiest Indian breakfast recipes as it requires minimal amount of oil and requires minimal processing of ingredients. Pesarattu, an Instant Dosa prepared with protein rich green moong dal instead of rice and urad dal, is even more healthier and easier to prepare compared with regular Dosa since batter prepared by grinding the water soaked moong beans with chilli, ginger and garlic doesn't require any fermentation. This deliciously crispy Dosa is one of the best recipes of Andhra cuisine and is generally served with
rava upma
and
aalam pachadi
(ginger chutney). This Pesarattu recipe explains how you can prepare Moong Dal Dosa at home in just 20 minutes with step by step photos and provides tips and ideas for introducing your own custom variations to make it even better.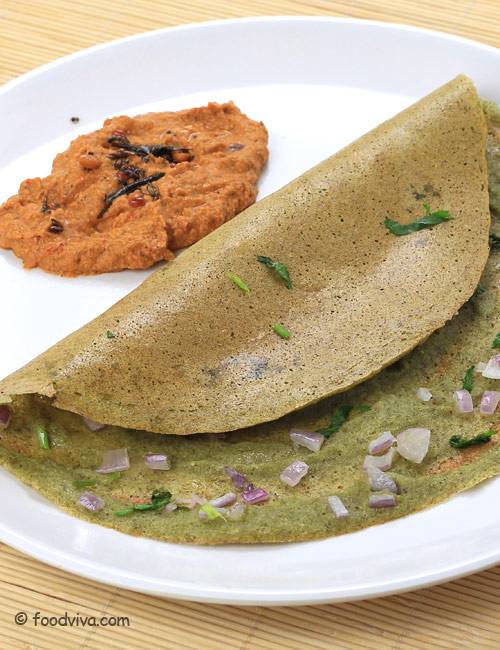 More Andhra Recipes
Preparation Time:
 4 hours
Serves:
3 servings (7 dosas)
Ingredients:
1 cup Whole Moong (whole green gram)
2 tablespoons Rice Flour or Rice (short grained)
2 tablespoons finely chopped Coriander Leaves
1-2 Garlic Cloves, chopped (optional)
1 inch long piece of Ginger
1-2 Green Chillies, chopped (or to taste)
2 medium Onions, finely chopped
3 tablespoons finely chopped Coriander Leaves
Oil, for shallow frying
Salt to taste
Note:
If you are using rice in this recipe then soak it along with moong in step-1.
Directions:
Wash whole moong beans in running water and soak them in 1½ cups water for around 4-6 hours.

Drain excess water from soaked whole moong beans. Transfer them in to mixer grinder jar and add green chilli, ginger, garlic, rice flour and salt.

Grind all ingredients together in a grinder or blender until semi-thick and little coarse texture (like dosa batter). Add water (approx. 3/4 cup to 1 cup) as needed while grinding to get the desired texture. Amount of water required depends on the quality of moong beans, so add it little by little and as needed to get the desired texture. Make sure that batter is not very thin. Transfer it to a bowl.

Heat a non-stick tava or iron dosa tawa over medium flame. To check whether tava is ready for making dosa or not sprinkle few drops of water on its surface. If water sizzles right away, then it means tawa is hot enough to cook dosa. After water evaporates completely, pour ladle full batter in the center of tawa and quickly spread it into thin circle (approx. 7-8 inch diameter circle) by rotating back-side of the ladle in spiral motion.

Sprinkle 1-tablespoon finely chopped onion and 1/2 tablespoon coriander leaves over it and gently press them using spatula.

Drizzle 1-teaspoon oil around the edge and cook for 1½ -2½ minutes or until the bottom surface turns light golden brown and crisp and top surface looks cooked.

If the top surface looks raw, slowly flip it over another side and cook for 30 seconds to a minute.

Transfer it to a serving plate. Repeat the process for remaining batter. Hot pesarattu is now ready for serving.
Tips and Variations:
Use sprouted moong beans to make Pesarattu even more nutritious.
Use split green gram (moong dal) instead of whole green gram (moong).
Add 1-teaspoon cumin seeds with other ingredients while grinding (in step-2) for variation. This adds nice aroma to it.
Use cooked onion (sautéed) instead of raw onion if desired.
You can make Moong Dal dosa as thin or thick as you prefer. If you are making thick dosa, then cover it with a lid after spreading it in step-6 to speed up the cooking.
Place 1/4 cup rava upma over dosa (like masala dosa) in step-6 (after cookings) and then fold one side over it to prepare Upma Pesarattu.
Taste:
 Crispy and mild spicy