It is yet another popular street food of India. When savory masala made with mashed potato, tomato, onion and capsicum is sandwiched between green chutney and butter laced bread and cooked in a sandwich maker, a mouth watering Veg Masala Toast Sandwich is born. The process of making this sandwich is extremely easy; first prepare mashed potato masala, spread butter and coriander chutney on bread slices, place mashed potato masala, sliced tomato and sliced onion between two bread slices, sprinkle chaat masala, and cook for few minutes in a toast sandwich maker. It takes just 35 minutes from start to finish and this Veg Masala Toast Sandwich Recipe explains entire process in 16 illustrative photos, provides tips to customize it, and ideas for serving. This sandwich is also known as Aloo Toast Sandwich due to its mashed potato based stuffing.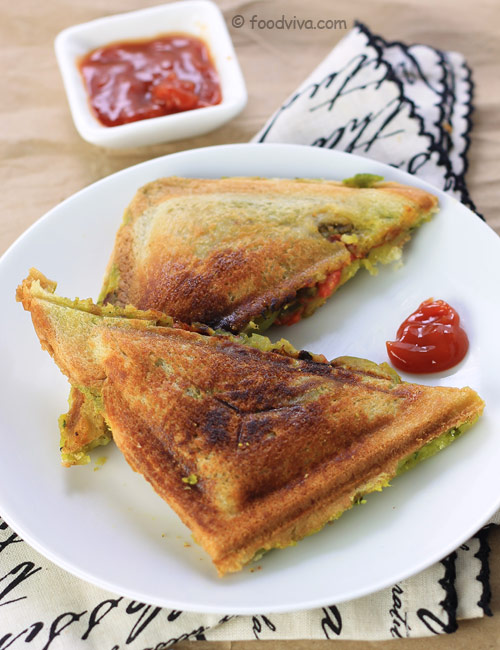 More Snacks Recipes
Preparation Time:
15 minutes
Serves:
3 servings (3 sandwiches)
Ingredients:
6 Bread Slices
1/3 cup Green Coriander Chutney
1 Tomato, sliced
1 Onion, sliced
1/2 Capsicum, sliced lengthwise
1/2 teaspoon Chaat Masala Powder
1/2 teaspoon Black Pepper Powder
Salt to taste
3-4 tablespoons Butter, for greasing (more or less as you like)
For the Potato Masala Stuffing:
3 Potato (aloo), boiled and peeled (approx. 350 gm)
1 medium Onion, finely chopped
1-2 Green Chillies, finely chopped
1 tablespoon Oil
1 teaspoon Mustard Seeds (rai)
1/2 teaspoon Turmeric Powder
1 teaspoon Lemon Juice (or to taste)
3-4 tablespoon finely chopped Coriander Leaves
Directions:
Boil potatoes in salted water until soft. Peel them.

Mash them using a potato masher or using backside of a large spoon.

Heat 1 tablespoon oil in a pan/kadai over medium flame. Add finely chopped onion and green chilli.

Sauté until onion turns light pink. Add 1/2 teaspoon turmeric powder.

Stir and cook for a minute.

Add mashed potato, finely chopped coriander leaves, and lemon juice. Add salt to taste (only if you have not added while boiling the potatoes).

Mix well and cook for a minute. Turn off the flame. Aloo masala for sandwich is ready.

Take bread slices and spread the butter evenly on each slice on one side using a knife.

Spread green chutney (approx. 1 tablespoon or to taste) on each slice. Spread 3-4 tablespoons potato masala (aloo masala) evenly over 3 bread slices.

Put 2-3 slices of tomato and 2-3 slices of onion over mashed potato masala.

Place few slices of capsicum over it and sprinkle some chaat masala over it.

Sprinkle a pinch of black pepper powder and salt over it.

Cover each with the bread slice which is spread with chutney and butter. Again spread butter over it. (If you like the crispy outer side).

Place sandwiches in a preheated toaster or grill or stove top sandwich maker.

Toast until crispy and golden in color. (Follow the manufacturer's instructions to toast it perfectly.)

Remove Aloo Toast Sandwiches from the toaster. Spread the butter evenly over it. Sprinkle some chaat masala and serve hot with green coriander chutney and tomato ketchup.
Tips and Variations:
Don't forget to spread the butter on each bread slice. This prevents the bread slice from turning soggy.
You can also make veg masala toast sandwich without using any vegetables; just place mashed potato masala between two slices of bread.
Add a cheese slice or grated cheese over capsicum in Step-14 before placing the bread slice to make cheesy sandwich.
You can use electric sandwich toaster, grill or stove top sandwich toaster to toast the sandwich.
Sprinkle sev over Masala Toast Sandwich before serving for variation.
Serving Ideas:
 Serve it hot with
green chutney
and tomato ketch up as the afternoon snack or light evening dinner.