Bread pizza is one of the quickest and easiest recipes to make at home using bread, cheese and veggies for dinner or afternoon snack. It's the innovative version of traditional pizza as it has a similar look and same toppings but has a different pizza base. In this pizza, the bread slice is used as pizza base and hence there is no need to make the pizza dough and wait until it rises like the traditional one. If you have bread slices, pizza sauce (or tomato ketchup), your choice of toppings and cheese then it hardly takes 15-20 minutes to satisfy your pizza cravings. Follow the below given recipe with step by step photos to make this delicious snack for kids birthday party or for evening snack.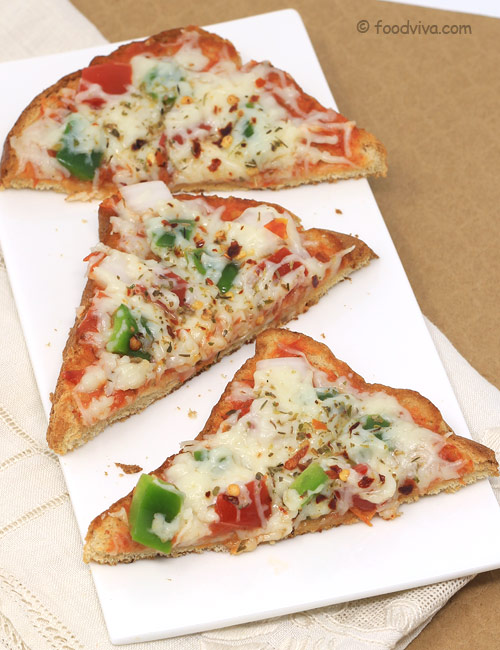 More Snacks Recipes
Preparation Time:
10 minutes
Serves:
3 servings (6 bread pizzas)
Ingredients:
6 slices of Bread (any type of sandwich bread, whole wheat, brown, white, multi grain)
3 tablespoons Pizza Sauce or Red Pasta Sauce or Tomato Ketchup
1 medium Onion, cubed (approx. 1/4 cup)
1 medium Tomato, deseeded and cubed (approx. 1/4 cup)
1/2 Capsicum, cubed (approx. 1/4 cup)
6 Olives, sliced, optional
1 cup grated Cheese (pizza cheese or mozzarella cheese)
1/4 teaspoon dried Oregano (or Mixed Italian Herbs or Pizza Seasonings)
1/4 teaspoon dried Basil (or Mixed Italian Herbs or Pizza Seasonings)
1/2 teaspoon Red Chilli Flakes, optional
Oil, for shallow frying (Olive oil preferable for best flavor)
Note:
You can either use 1/4 teaspoon Oregano + 1/4 teaspoon Basil OR 1/2 teaspoon mixed Italian Herbs OR 1/2 teaspoon Pizza Seasonings.
Directions:
Either follow this recipe of

Homemade Pizza Sauce

to make it at home or use the readymade sauce or tomato ketchup.

Heat 1 teaspoon oil in a tawa or a frying pan over low-medium flame. Place 2-3 bread slices on the hot surface of tava.

Toast it until bottom surface turns light golden brown. Make sure that the bottom surface doesn't turn dark brown. When the bottom surface turns light golden brown, flip each slice and turn off the flame.

Transfer them to a plate. Lightly spread olive oil over it. This step is optional but it prevents the bread from turning soggy and enhances the flavor.

Spread 1/2 tablespoon pizza sauce (or as needed) on each slice of the bread.

Place cubed onion, cubed tomato, cubed capsicum and sliced olive over it.

Spread grated pizza cheese or mozzarella cheese over it.

Sprinkle dried oregano and dried basil (or pizza seasonings or mixed Italian herbs) and red chilli flakes over it.

Place them on the pan and heat it over low flame.

Cover the pan with a lid and toast it over low flame.

Toast it until the cheese melts and the bottom surface turns crispy. It will take approx. 2-3 minutes. Transfer it to a serving plate and serve with tomato ketchup.
Tips and Variations:
For variation, use paneer, spinach, shallow fried mushroom, shallow fried eggplant(brinjal), boiled sweet corn kernels, etc. for topping.
If possible, use olive oil for the best flavor.
Instead of making pizza on tawa, bake them at 350°F/180°C in a preheated oven for 5-7 minutes or until the cheese melts.
Taste:
 Cheese and Crispy
Serving Ideas:
 Serve bread pizza with tomato ketchup as an afternoon snack or as a light evening dinner. It can be also served with
milkshake
or
fruit smoothie
in kid's birthday party.