Are you looking for a party starter recipe that not only taste delicious but also can be prepared in advance? Then try these yummy Cheese Balls!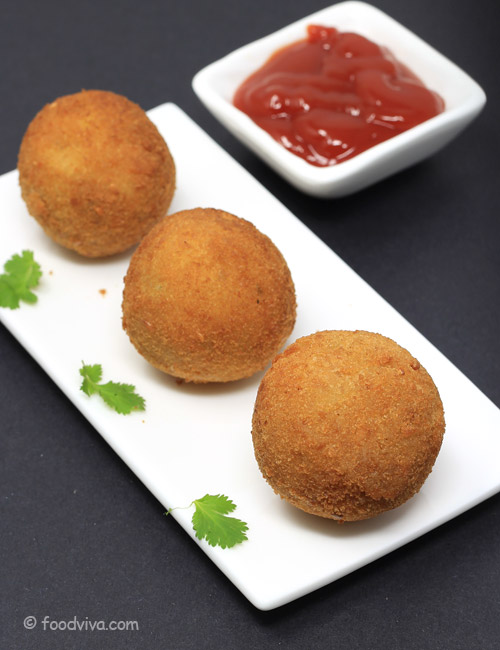 If you serve these crispy cheese stuffed potato balls in a party or get together, I am sure all the people, especially kids, will love them. These raw crispy balls can be prepared in advance and they stay good in the freezer for up to a month. Follow the below given recipe with step by step photos to make them at home and don't forget to read tips section for more ideas.
Cheese Balls Recipe Video
More Starter Recipes
Preparation Time:
20 minutes
Ingredients:
3 medium Potatoes, boiled (250 gms)
100 gms Mozzarella Cheese or Cheddar Cheese
3 tablespoons finely chopped Capsicum, optional
1/2 teaspoon Red Chilli Flakes
1/2 teaspoon Pizza Seasonings (or dried Italian herbs)
1/4 teaspoon Black Pepper Powder
1/2 teaspoon grated Garlic(or paste), optional
2 tablespoons Breadcrumbs
For Coating
2 tablespoons Maida (all purpose flour)
2 tablespoons Cornstarch (cornflour)
1/4 cup Water (or as needed)
1/2 cup Breadcrumbs
Oil, for deep frying
Salt to taste
Directions:
Boil the potatoes until soft. Don't boil them until soggy or mushy else the mixture will turn sticky in step-6. Peel them and add to a large bowl.

Either mash them or grate them using a grater.

Add 3 tablespoons finely chopped capsicum, 1/2 teaspoon red chilli flakes, 1/2 teaspoon pizza seasonings (or dried Italian herbs) and 1/4 teaspoon black pepper powder, 1/2 teaspoon grated garlic(or garlic paste), 2 tablespoons breadcrumbs, and salt (add only if not added while boiling the potatoes).

Mix well. Check the mixture for salt and add more if required.

Take 2 tablespoons cornstarch (white corn flour) and 2 tablespoons maida (all purpose flour) in a small bowl. Add water(approx. 1/4 cup) little by little and mix well to make a medium thick paste.

Cut the cheese into 10 small cubes (approx. 1/2 inch thick and 1 inch wide). Divide the mixture into 10 equal portions. Take one portion and give it a shape like a ball.

Press it between your palms to flatten it. Place a small cube of cheese in the center.

Wrap it from all the sides and give a shape of a ball again. Make sure that the cheese cube is covered well from all the sides. Take 1/2 cup dry breadcrumbs in a plate. Take each ball and roll it in breadcrumbs.

Set all the breadcrumbs coated balls aside in a plate.

Now, take one ball and dip into cornflour-maida paste.

Remove the ball from the paste and roll it in bread crumbs.

Do the same process for all the balls. (You can store them in a ziplock bag in the freezer, they stay good up to 1 month.)

Heat the oil in a frying pan for deep frying over medium flame. How to check the temperature of the oil – drop a small portion of potato mixture in the hot oil and if it comes upward without changing its color then it's ready. When the oil is ready (medium hot), slide only one cheese ball into the oil and deep fry until it turns golden from all the sides. If it's perfect then slide 4-5 cheese balls into the hot oil.

Don't stir the balls till a minute. Deep fry until they turn golden from all the sides.

Remove them using a slotted spoon.

Transfer them on the paper towel in a plate. Deep fry the remaining balls in a similar way. Potato Cheese balls are ready for serving. Serve them hot with tomato ketchup.
Tips and Variations:
For a party or get together, make the raw cheese balls in advance and store them in a ziplock bag in the freezer, they stay good for up to a month. Fry them at the time of serving.
Instead of deep frying, bake them in a preheated oven at 200 C(392 F) for 15 minutes or shallow fry them in an appe pan(appam pan/ aebleskiver pan).
You can use mozzarella cheese or cheddar cheese or processed cheese to make cheese balls.
To give the cheese balls Indian taste, replace red chilli flakes and oregano (or pizza seasonings) with 1/4 teaspoon chaat masala powder, 1 chopped green chilli, 1/2 teaspoon ginger paste, 1/4 teaspoon garam masala powder and 1/4 cup finely chopped coriander leaves.
To prevent the cheese from oozing out while deep frying, freeze the raw balls for 30 minutes before deep frying.
Don't stir the balls for a minute after adding them into the hot oil to prevent them from breaking.
Taste:
 Crispy from outside and cheesy from inside
Serving Ideas:
 Serve them hot with tomato sauce or chutney of your choice or with tea/coffee as an evening snack. They are perfect to serve as a starter or side dish in the party.