In India, people like to binge on snacks in evenings and Hara bhara kabab is yet another
Vegetable Cutlet
like snack prepared with spinach and green peas that makes evening even more relaxing and enjoyable. These kababs (tikkis) are best way to add nutritious spinach in your diet and this recipe's step by step photos make it very easy and simple to prepare at home in less than 30 minutes.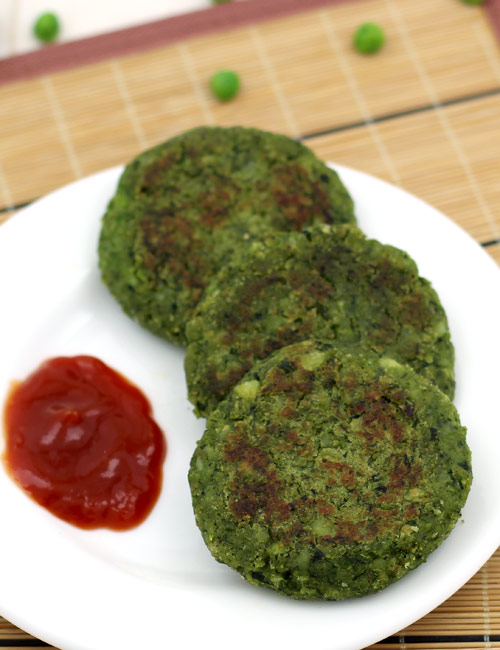 More Snacks Recipes
Preparation Time:
 15 minutes
Serves:
4 servings (8 pieces)
Ingredients:
2 cups Spinach
2 medium Potatoes, boiled
3/4 cup Green Peas (matar), fresh or frozen
1 Green Chilli, roughly chopped (to taste)
1/2 teaspoon chopped or grated Ginger
2 tablespoons chopped Coriander Leaves, optional
A pinch of Turmeric Powder, optional
A pinch of Green Cardamom Powder, optional
1/4 teaspoon Garam Masala Powder
3/4 teaspoon Dry Mango Powder (amchur powder)
2½ tablespoons Roasted Gram Flour (or crushed daliya dal or breadcrumbs or crushed cornflakes or crushed oats)
3 tablespoons Breadcrumbs
Salt to taste
1 teaspoon + 2 tablespoons Oil
Directions:
Boil potatoes in salted water until soft. If you are using fresh green peas then boil them in hot water until soft. If you are using frozen peas then thaw them (we used frozen green peas in this recipe).

Blanch the spinach – boil spinach in hot water for 2-3 minutes, drain using colander and immediately transfer spinach into cold water. Drain cold water using colander.

Roughly chop the blanched spinach.

Heat 1-teaspoon oil in a pan over medium flame. Add green peas, blanched spinach and salt.

Stir and cook spinach and green peas mixture until almost moisture is evaporated and it turns dry – it will take around 3-4 minutes depending on the moisture in peas and spinach. Add coriander leaves and a pinch of turmeric powder (turmeric powder is an optional ingredient; it is added to enhance the green color) and mix. Let the mixture cool for a while.

Take green chilli and ginger in a small chutney jar of a mixer grinder.

Grind them until medium coarse texture. Add cooked spinach-green peas mixture and grind again until smooth texture (or medium coarse texture if you like it).

Mash or grate the boiled potatoes in a medium size bowl. Add crushed greens (prepared in step-6), cardamom powder, garam masala powder, dry mango powder, roasted gram flour, breadcrumbs and salt to taste.

Mix all the ingredients and taste it. If required, add more salt or dry mango powder to get tangy taste. If the mixture is wet or sticky, add more breadcrumbs and mix again.

Grease your palms with oil and divide mixture into 8 equal portions. Take each portion and give it a round shape of ball. Press it gently between your palms to flatten it and give a shape like pattie (tikki) as shown in the picture.

Heat 1-2 tablespoons oil in a non-stick pan or non-stick tawa over medium flame. When pan is medium hot, put 2-3 tikkis at a time (as per the size of a pan) and shallow fry until bottom surface turns light brown, it will take around 2-3 minutes.

Flip each green tikki and shallow fry another side until light brown, it will take around 1-1.5 minutes.

Transfer each kabab to a plate. Serve hara bhara kabab with tomato ketchup or with beaten curd as afternoon snack.
Tips and Variations:
You can increase or decrease the amount of mashed potato (more or less) in the final mixture to your liking; it will not affect the taste.
For crispier outer layer, roll the tikkis in breadcrumbs before shallow frying.
Replace roasted gram flour with crushed corn flakes, raw poha or crushed oats for varieties of crisp outer layer.
If you are in a hurry, you can skip the step for blanching the spinach and direct cook chopped spinach with green peas in step-4.
Tikkis are shallow fried to use less oil but you can deep fry them to better crispiness and taste. For deep frying, keep oil on medium flame and deep fry until golden brown. If you deep fry tikkis over low flame, they will separate in oil and if you deep fry them over high flame, they will turn brown immediately.
Add 1-2 cloves of garlic while grinding all ingredients to make garlic flavored spinach tikki.
If you are making it for kids, you may want to avoid adding green chilli in step-6.
Taste:
 Savory with crisp outer layer and soft inner
Serving Ideas:
 Serve hara bhara kabab in party or as an evening snack with tomato ketch up or
hari dhanya chutney
.