It is a mouth watering traditional Gujarati snack prepared with gram flour and buttermilk and seasoned with sautéed sesame seeds and few other spices. It's not only easy to make but healthy as well because it just involves steaming gram flour and buttermilk and does not require any other complex cooking techniques. However, you need some basic cooking knowledge to make the khandvi. The simple yet aromatic seasoning of sauteed cumin, mustard, curry leaves, coriander and coconut makes it simply irresistible.This step-by-step photo recipe also provides two different ways to make it. 1)
Traditional khandvi rolls
and 2)
Easier khandvi noodles
.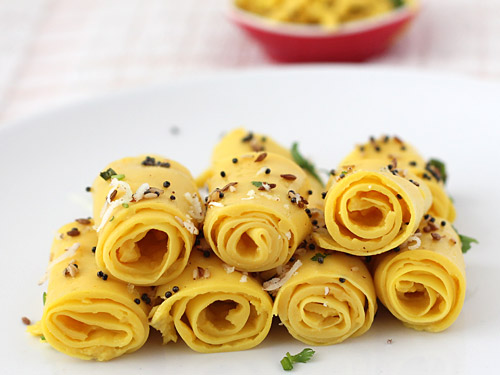 More Snacks Recipes
Preparation Time:
5 minutes
Ingredients:
1/2 cup Gram Flour (besan/chickpea flour)
1 cup Sour Buttermilk
1/4 teaspoon Turmeric Powder (haldi)
Salt
For Seasoning:
1 teaspoon Sesame Seeds (til)
1/2 teaspoon Mustard Seeds
1/2 teaspoon Cumin Seeds
1-2 Green Chillies, seeded and finely chopped
10-15 Curry Leaves
2 tablespoons Scraped Coconut
4 tablespoons finely chopped Coriander Leaves
2 tablespoons + 2 teaspoons Oil
Notes:
Use the fresh gram flour (not very old) to make the khandvi. If the flour used is not fresh, khandvi will break while rolling.To check gram flour is fresh enough or not, mix 1 teaspoon gram flour with 1 teaspoon water and if the mixture is sticky enough then it is fresh. Old flour has less stickiness compared to fresh one and it tastes little bit bitter.
Directions-1: (Khandvi Rolls)
Take gram flour, buttermilk, turmeric powder and salt in a large bowl. Mix properly and make smooth batter using a hand blender. Grease a large plate or back side of a thali or an aluminum foil with cooking oil and keep aside.

Pour batter into a heavy bottomed pan or a kadai and cook on low flame.

Keep stirring constantly to avoid lump formation.

Transfer a large spoonful of batter over previously greased plate or thali. Spread batter in a thin layer with the backside of a flat spoon or a spatula. Depending on the quantity of the batter and size of a plate, you may need 2-3 plates to spread the whole batter.

Let it cool for 3-4 minutes. Once cooled, place straight cuts using a knife and make 2″ wide strips.

Carefully roll each strip into a roll (like a swiss roll) and transfer them to a serving dish.

Heat 2 tablespoons cooking oil in a small tempering pan. Add mustard seeds; when they begin to crackle, add cumin seeds, curry leaves and green chillies and let them cook for around 30-40 seconds. Add sesame seeds only in the end when the sauté is ready.

Pour prepared seasoning over khandvi rolls.

Sprinkle shredded coconut and chopped coriander leaves. Serve it with a spoonful of green coriander chutney or garlic chutney.
Directions-2 (Khandvi Noodles):
Follow the steps 1-4 (from directions-1) and prepare the batter. Cool the batter for few minutes (approx. 4-5 min).

Take a sevai machine and fit the thick sev mould in it. Grease the entire inner surface of machine with oil, fill it with batter and close the lid.

Move machine over greased plate and turn its handle continuously to force the batter out through mould (same process as you make a chakli). Let noodles cool for 3-4 minutes.

Separate noodle strands carefully and break into small pieces. Transfer them to a serving plate or bowl. Follow step-8 of directions-1 to prepare the tempering and pour it over khandvi noodles.
Tips and Variations:
*To check whether the batter is properly cooked or not, spread a small amount of it (taken from hot batter being cooked) on a small plate having a smooth surface, leave it for a minute or so and then try to peel it and make a roll. If it peels out easily, batter is ready.
If sour buttermilk is not available, then mix 1/4 cup sour curd and 3/4 cup water using a blender. Alternatively, use 2 teaspoons lemon juice and normal buttermilk if buttermilk is not sour enough.
If you are preparing it for the first time, we recommend that you try the second method (noodles type khandvi). It is easier than making rolls.
Taste:
Soft and mild sour
Serving Ideas:
Gujarati Khandvi can be served with a mouth watering green mint chutney or date chutney (khajur chutney). Serve it as an evening snack with the tea/coffee or as a side dish for dinner. This snack is healthy and suitable for kids; pack kandvi in their lunch box for a nice surprise.