With this easy step by step photos recipe of khaman dhokla, you can prepare soft and spongy instant dhokla in less than 20 minutes and you do not need to prepare batter 8 or 12 hours in advance. The secret of its sponginess and no requirement of advance preparation lies in using popular Eno salt. Follow our easy breakfast recipe with step by step photos and discover how easy it is to make mouth watering traditional khaman at home.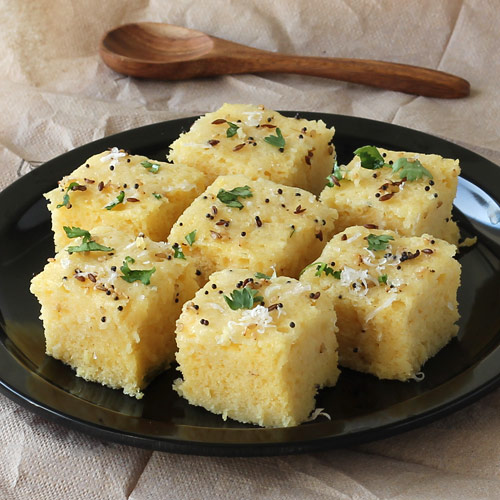 Instant Khaman Dhokla Video
More Snacks Recipes
Preparation Time:
5 minutes
Ingredients:
For Batter:
1 cup Gram Flour (Besan/Chickpea Flour)
1 tablespoon Semolina (rava/sooji), optional
1½ teaspoons Lemon juice
1 teaspoon crushed Green Chilli-Ginger (or paste)
1/4 cup Curd (plain yogurt)
3/4 cup Water
1/2 teaspoon Salt, or to taste
1 teaspoon Eno Fruit Salt
1 teaspoon Oil (for greasing)
For Tempering:
2 tablespoons Oil
1/2 teaspoon Mustard Seeds
1 pinch Asafoetida (hing)
1/2 teaspoon Cumin Seeds (optional)
1 teaspoon Sesame Seeds (til)
10-15 Curry Leaves
4 Green Chillies, slit lengthwise and cut into halves
1/3 cup Water
1 tablespoon Sugar
2 tablespoons chopped Coriander Leaves
2 tablespoons grated Fresh Coconut
Directions For Batter and Khaman Dhokla:
Take all ingredients to prepare batter. Pour approx. 2-3 cups water in steamer at bottom and heat it over medium flame. Make sure that steamer is at least 4-5 minutes heated before placing the plates (filled with batter) in it. Grease 2 small plates or thalis (4-5 inch diameter) using 1-teaspoon oil.

Take 1 cup gram flour, 1 tablespoon semolina(sooji/rava), 1½ teaspoons lemon juice, 1 teaspoons green chilli-ginger paste, 1/4 cup curd, 3/4 cup water and salt in a bowl. Mix them properly into smooth batter. Make sure that there are no lumps.

Add 1 teaspoon fruit salt in batter and stir in one direction for approx. 1 minute. You will notice its size would increase to almost double.

Now, pour batter immediately into each greased plate and fill it upto 1/2-inch thickness.

Place plates in steamer and steam for 10-12 minutes over medium flame.

After 10-12 minutes, insert a knife or toothpick into dhokla and check if it comes out clean. If it does, then it is ready otherwise cook 2-3 minutes more.

Takeout plates from steamer and let them cool for few minutes. Cut fluffy khaman dhokla into small squares using knife.
Directions for Tempering:
Heat 2 tablespoons oil in a small pan or tempering pan. Add1/2 teaspoon mustard seeds and a pinch of asafoetida (hing). When seeds begin to crackle, add 1/2 teaspoon cumin seeds, 1 teaspoon sesame seeds, 10-15 curry leaves and 4 green chillies. Sauté them for few seconds.

Add 1/3 cup water and 1 tablespoon sugar and bring it to a boil; let it cook for a minute over high flame. Tempering(tadka) is ready, pour it over dhoklas and toss gently until each dhokla is coated well with tempering.

Garnish with 2 tablespoons chopped coriander leaves and 2 tablespoons grated coconut. Serve with

green coriander chutney

.
How to Make Dhokla in a Pressure Cooker:
Pour water 1.5-2 glass water into 3 or 5-liter capacity aluminum/steel pressure cooker and heat it over medium flame for 4-5 minutes before placing the greased plates.
Place small stand or a small bowl in the pressure cooker and place greased plates (filled with batter) over it. You can also use dhokla stand in the pressure cooker.
Close the pressure cooker lid and remove the whistle. Cook it over medium flame for 15-minutes. After 15-minutes open the lid and insert the toothpick or knife to check whether dhokla is cooked or not. If it is not cooked then cook it more for 5-minutes.
If you are making it in large quantity then do not forget to add water in pressure cooker in each batch.
How to Make Dhokla in a Microwave:
Keep the batter aside for 10 minutes to settle in step-2 in above recipe (before adding eno fruit salt).
After 10 minutes, grease a microwave safe bowl with oil and pour batter in it.
Cover it with a lid or a plate and cook on high settings for 2.5 to 3 minutes.
After 2.5-minutes, remove bowl from microwave and insert toothpick in the center to check weather it is cooked or not. If it comes out clean then it is cooked otherwise cook more for 20-30 seconds.
If you over cook them then they may turn hard so make sure that if you required to cook for more time then check them every 30 seconds.
Time required to cook dhokla may vary depending on the different microwaves settings and quantity of batter.
How to Make Dhokla Without Steamer:
Take a deep and broad vessel (broader than dhokla plate) with a lid. The plate should be smaller than the vessel in which we want to steam them.
Pour 1-2 glass water in the vessel and then put a dhokla plate (filled with batter) over small stand in it and then cover with a lid.
Steam it for 12-15 minutes over medium flame.
Tips and Variations:
Make sure that steamer is properly heated (at least 4-5 minutes) before placing the plates filled with batter in it otherwise dhokla will take more time to cook and may not turn spongy.
If you want to prepare dhokla in batches (for given amount of batter), then follow the given steps.

Prepare batter without adding Eno salt and divide it into two equal portions.
Add 1/2 teaspoon Eno fruit salt in one portion, whisk well for a minute and pour it immediately into greased thali.
When first batch is cooked, add 1/2 teaspoon Eno fruit salt in remaining batter and follow the same process as mentioned above.

After adding Eno fruit salt do not keep batter for long time otherwise dhokla will not be spongy.
Steam batter over medium flame to make them spongy. Do not steam it on high flame otherwise it will not cook from inside.
To prepare Amiri khaman, crumble dhoklas, pour tempering over it, sprinkle sev, pomegranate seeds and cashew nuts. Mix well and serve.
Taste:
Sour and Mild Sweet