Cabbage poriyal, a south Indian style simple accompaniment, is a delicious mixture of stir-fried cabbage, basic cooking spices and grated coconut and can be prepared within few minutes and makes your meals healthier and tastier. It is also known as cabbage palya and with this recipe's step by step pictures and carefully chosen ingredients, making it at home is easier than ever.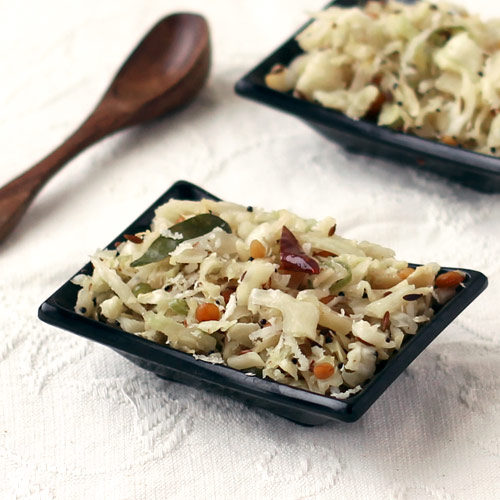 More South Indian Recipes
Preparation Time:
5 minutes
Ingredients:
1 cup finely chopped or shredded Cabbage
1/8 teaspoon Mustard Seeds
1/8 teaspoon Cumin Seeds
1/8 teaspoon Urad Dal
1/8 teaspoon Chana Dal
1/2 Dry Red Chilli
1/2 Green Chilli, chopped
A pinch of Asafoetida
3-4 Curry Leaves
1 tablespoon grated Fresh Coconut
1 teaspoon Oil
Salt to taste
Directions:
Heat oil in a heavy-based pan over medium flame. Add mustard seeds and cumin seeds. When mustard seeds start to splutter, add urad dal and chana dal and sauté until dals turn light golden brown. Add dry red chilli, chopped green chilli, curry leaves and asafoetida, sauté for 10-20 seconds.

Add finely chopped cabbage and salt, stir constantly for 1-2 minutes.

Cover it with a lid and cook over low flame until cabbage turns tender. There is no need to add water as moisture of cabbage would be sufficient to cook it. However if required, add 1/2 tablespoon water. It will take around 4-5 minutes to cook. Stir in between 1-2 times to prevent sticking and make sure that it does not turn mushy.

Add grated fresh coconut.

Mix well and turn off flame. Transfer it to a serving bowl.
Tips and Variations:
Garnish it with 1-tablespoon finely chopped coriander leaves.
For variation, add 2-3 tablespoons moong dal (soaked in water for 15-minutes) in step-2.
Serving Ideas:
 Serve it as an accompaniment with rice and curry for lunch or with dosa and coconut chutney in the breakfast.