It is a healthy and easy to prepare shallow fried Indian flat bread with goodness of cabbage. It is so versatile and healthy that it can be served in breakfast, lunch or dinner. The additional benefit of green vegetable in a discreet way makes it ideal to be served to kids who are fussy about veggies in curries and dals.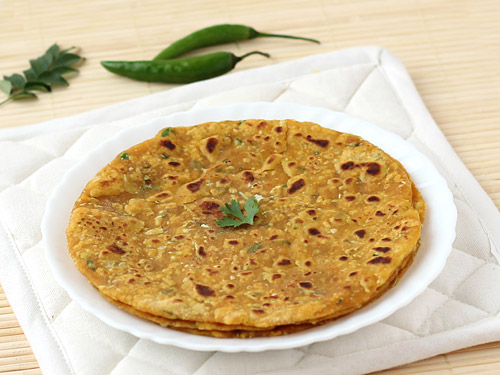 More Roti Paratha Recipes
Preparation Time:
20 minutes
Ingredients:
1 cup + 1/2 cup Wheat Flour
3/4 cup grated or shredded Cabbage
1 Green Chilli, finely chopped
3 cloves Garlic, crushed
1/2 teaspoon grated Ginger
1/2 teaspoon Red Chilli Powder
1/2 teaspoon Cumin-Coriander Powder
1/4 teaspoon Turmeric Powder
23 teaspoons Oil + for shallow frying
Salt to taste
Water
Directions:
Take 1-cup wheat flour, cabbage, green chilli, garlic, ginger, red chilli powder, cumin-coriander powder, turmeric powder, 2-teaspoons oil and salt in a large bowl and mix them all properly.

Add water as needed in small quantities and bind a little stiff yet soft dough. Since grated cabbage releases water, less water is required to bind the dough compared with normal plain paratha dough.

Cover the dough and set aside for 15 minutes to settle. After 15 minutes, drizzle 1-teaspoon oil over its surface and knead again for a minute. Divide it into 7-equal portions, give them a round ball shape and press between your palms to give a shape of round pattie.

Take 1/2 cup wheat flour in a plate for dusting. Coat one pattie with dry wheat flour and place on a wooden board (rolling board).

Roll it out using rolling pin into a circle with approx 6-7 inch diameter. If required, dust flour while rolling to prevent it from sticking.

Heat tava over medium flame. Place rolled paratha over it.

When tiny bubbles start to appear on top, flip it and spread 1/4 teaspoon oil over its top surface and drizzle 1/4 teaspoon oil around its edges. Press a little using spatula and cook for 30-40 seconds.

Flip again, spread 1/4 teaspoon oil over surface and drizzle 1/4 teaspoon oil around its edge. Press a little using spatula and cook for 30-40 seconds. Flip and cook until golden brown spots appear on both sides. Follow the same process for remaining dough balls (from step-4 to step-8).

Cabbage paratha is ready. Transfer it to serving plate and serve with tomato raita and coriander chutney.
Tips and Variations:
Do not keep dough idle for long time (in step-3) otherwise water releases from cabbage will turn it very soft. As a result, you may not be able to roll paratha easily.
If you do not like the raw smell of cabbage then sauté grated cabbage in 1-teaspoon oil for 3-4 minutes before mixing with flour.
It is a perfect and healthy option for kid's lunch box. Avoid green chilli if your kid is not able to tolerate the heat.
Taste:
 Mild spicy and salty
Serving Ideas:
 This paratha can be served with any type of chutney or raita in lunch or dinner. You can also serve it with tea in the breakfast.