Mint Chutney is deliciously spicy condiment prepared from fresh mint leaves, coriander leaves, ginger and garlic. The garlic and coriander leaves adds additional dimension to its flavor as well as helps bring down strong aroma of mint and making it more palatable. Savor the blissful taste of this Indian chutney by using it as condiment or dip with tempting food dishes like paneer tikka dry, khaman dhokla, samosa, kachori, sandwiches, etc.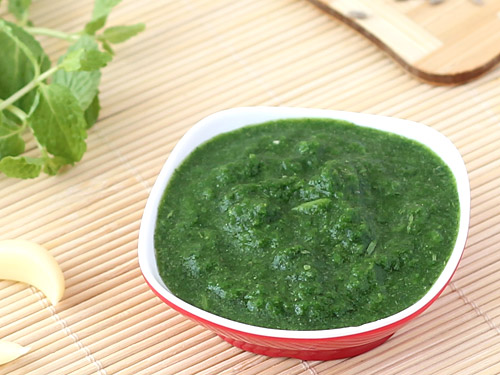 More Chutney Raita Recipes
Preparation Time:
10 minutes
Ingredients:
1/2 cup finely chopped mint leaves
1 cup finely chopped coriander leaves
2 garlic cloves (lasun)
2 green chillies, chopped
1/4 inch ginger piece
1 teaspoon sugar (optional)
1 teaspoon lemon juice
1/4 teaspoon salt
1 tablespoon Water
Directions:
Take garlic, chilli, ginger, sugar and salt in a small chutney jar of grinder or food processor.

Grind them until medium coarse consistency.

Add coriander leaves, mint leaves, lemon juice and 1 tablespoon water.

Grind again until desired smooth or medium coarse consistency is achieved. Delicious mint chutney for sandwich is ready.

Serve it as condiment or store it in an airtight container in refrigerator to use it as and when required. You can store and use it for up to 3-4 days.
Tips and Variations:
Add 3 tablespoons water to make chutney for bhel puri or samosa chaat.
Add 2 teaspoon daliya (roasted chana dal) or groundnut in step-1 for a thick texture.
Add 2 tablespoons yogurt to prepare a mint dip for pakoda or sandwiches.
Add 1/2 cup fresh grated coconut in step-1 to make mint chutney for dosa.
Use mortar and pestle instead of grinder to get traditional, more appealing texture.
Taste:
Spicy with nice invigorating aroma of fresh mint leaves.
Serving Ideas:
Serve it as accompaniment for chaat, samosa or khaman dhokla. It can also be used as an ingredient in many Indian snacks preparations and enjoyed as spicy condiment in lunch or dinner.