Red Chilli Chutney, a hot and spicy yet delicious chutney prepared from dry red chillies is a must have condiment to enhances the taste and flavor of many Indian snack items. This chutney recipe uses dry red chillies and combines its hotness with garlic to take its flavor profile to the next level. Not only that, the paste of chilli, ginger, garlic and spices is sautéed in oil to give it a tempting taste and texture which is not possible otherwise.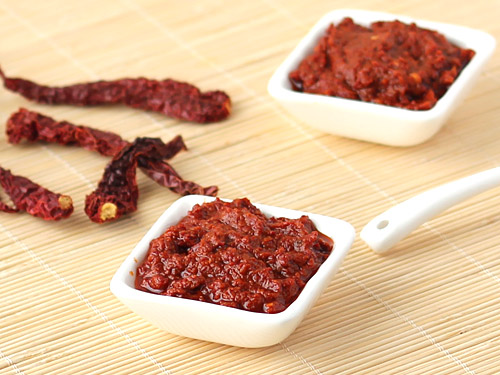 More Chutney Raita Recipes
Preparation Time:
25 minutes
Ingredients:
8-10 Whole Dry Red Chillies
1/2 inch Ginger, chopped
8 Garlic Cloves
1½ teaspoons Lemon Juice
1 tablespoon Cumin-Coriander Powder
2 tablespoons Oil
1/3 teaspoon Salt
Directions:
Deseed and soak dry red chillies in water for 20 minutes and drain them.

Take drained red chillies, ginger, garlic, cumin-coriander powder and salt in a small chutney jar of a food processor or grinder. Grind them with 1 tablespoon water until smooth paste.

Heat 2 tablespoons oil in a medium size pan and add prepared paste.

Sauté it for 2-3 minutes over low flame. Turn off the flame and let it cool at room temperature and mix lemon juice.

Transfer red chilli garlic chutney to serving bowl. Use it to make delicious chaats like bhel puri, sev puri or pav bhaji, etc. and give it a spicy touch.
Tips and Variations:
For even better taste and texture, use mortar and pestle to make this chutney. It will give a coarse texture like no other.
Use more oil if you like to have an oily chutney. It improves the taste and texture a lot.
Taste:
Very hot and spicy
Serving Ideas:
There are simply many ways in which red chilli chutney can be used to transform any dull food into titillating spicy food. E.g. use it as spicy condiment for dosa, idli or as a dip for samosa, kachori and various Indian snacks or as a spread to make sandwiches and rolls.