Samosa, a crispy and spicy deep fried snack that has an crisp and flaky outer layer made of maida and rich filling of mashed potato, peas and spices is a popular street food of India. It's a favorite snack among people of all ages and generally served with masala tea and tamarind chutney as afternoon snack. The main thing about this snack is it can be prepared with one's liking of perfect not too hot, tangy and spicy taste. Follow our step by step photo recipe to make this snack at home and don't forget to read tips about double frying samosa (when making it for guests in advance).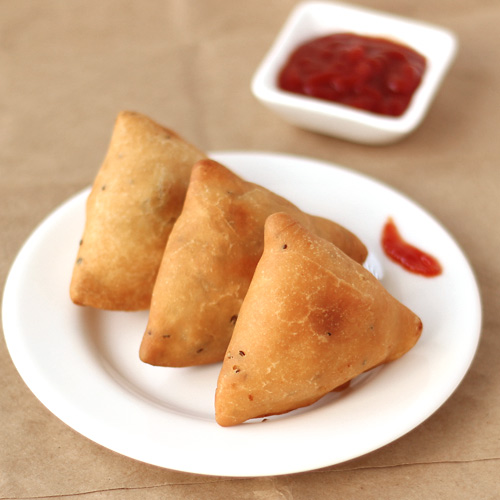 More Snacks Recipes
Preparation Time:
15 minutes
Ingredients For Outer Crisp Cover:
1½ cups Maida Flour
1 teaspoon Carom Seeds (ajwain)
3 tablespoons Ghee/Oil
Salt to taste
Ingredients For Stuffing:
3 medium Potatoes
1/2 cup Green Peas (mutter)
1/2 teaspoon Cumin Seeds (jeera)
1 tablespoon Green Chilli-Ginger Paste
1/2 teaspoon Red Chilli Powder (lal mirch)
1 teaspoon Coriander Powder
1/2 teaspoon Garam Masala Powder
1 teaspoon Dry Mango Powder (aamchur)/ Lemon Juice
1 teaspoon Fennel Seeds Powder (saunf powder)
5-6 Mint Leaves, chopped, optional
2 tablespoons finely chopped Coriander Leaves
Salt to taste
2 tablespoons + for deep frying Oil
Note:
You can use either fresh green peas or frozen green peas or dry peas according to the availability. If you are using frozen green peas, no need to boil them. If you are using fresh green peas, boil or steam them with potatoes. If you are using dry peas, soak them for 5-6 hours in water and then boil them.
Directions:
Boil green peas and potatoes in salted water in a pressure cooker until soft. After boiling, transfer them to a colander to remove excess water. Peel the potatoes and lightly mash them or finely chop them.

While potatoes are boiling, let's make a dough for crispy outer layer. Take maida, carom seeds, 3 tablespoons ghee (or oil) and salt in a wide mouthed bowl.

Mix all the ingredients properly with hand. You will notice the mixture will turn crumbly after mixing. Now, add water in multiple small quantities and knead firm dough (harder than paratha dough). Cover it with wet muslin cloth/any cloth and let it set for 15-20 minutes.

When the dough is setting, let's start to make stuffing for samosa. Heat 2 tablespoons cooking oil in kadai over medium flame. Add cumin seeds and green-chilli-ginger paste. Stir and cook for a minute.

Add boiled green peas and stir-fry for a minute. Add red chilli powder, coriander powder, garam masala powder, dry mango powder and fennel seeds powder.

Stir fry for a minute.

Add chopped/mashed potato and salt (add salt only if you have not added while boiling potatoes or taste the potato and then add according it).

Mix them properly and cook for 2-3 minutes. Add coriander leaves, mint leaves and mix well.

Turn off the flame and transfer stuffing mixture to a bowl. Let it cool for a while at room temperature.

After 15-20 minutes, remove the wet cloth and knead the dough again until smooth. Divide it into 6 small portions and make round shaped balls from it.

Take one dough ball and press it between your palms to flatten it a little. Put it over rolling board and roll it out into round shaped puri having approx 5-6 inch diameter. Cut it into two semi-circles.

Spread water with the wet finger or a brush on the cut side edge (straight side – as shown in photo) to moisten the surface.

Take one semi-circle and give it a shape of cone by folding it from both sides (overlapping one side over another) and pressing them to seal the sides.

Put one mutter (pea) at the bottom of the cone to keep its shape.

Put 2-3 tablespoons filling in the cone. Do not over fill the stuffing otherwise, you will not be able to seal the edges properly in next step.

Wet the edges with moist finger or a brush and press it tightly with your thumb and index finger to seal them. Make all remaining samosas in same way.

For deep frying, heat oil in a heavy based kadai (pan) over medium flame. When oil is medium hot, add 2-3 samosa (depending on the size of a pan) in it and reduce flame to low. Do not over crowd the oil to cook them evenly.

If you want to prepare them in advance for guest then remove the samosa when they start to turn light brown and deep fry them again at the time of serving. Skip this step if you do not want to double-fry (two times frying) the samosa.

Deep fry them on low to medium flame until they turn golden brown. Transfer fried samosas to a plate and serve with green chutney and tomato ketchup.
Tips and Variations:
Use samosa maker to give a proper triangle shape.
Do not deep fry the samosa over very high flame. Fry them over medium-low flame.
If you want to make the samosa in advance(3-4 hours ahead) for guests, then double fry them (two times deep frying) -1.deep fry them until light brown as shown in the step-18 and then remove from oil 2.deep fry them again at the time of serving.
To make the punjabi samosa, add chopped onion and paneer while making the stuffing.
To make the samosa chaat, serve samosa with ragda(or chhole), curd, green chutney, date-tamarind chutney, chopped onion and sev.