Sweet and sour Date Tamarind Chutney (Khajur Imli Ki Chutney) is a must have dip or stir-in mix for many Indian snacks. The jaggery, cumin powder, coriander powder and red chilli powder gives it a sweet and spicy kick while ginger-garlic-sesame seeds tempering makes it more aromatic and zingy.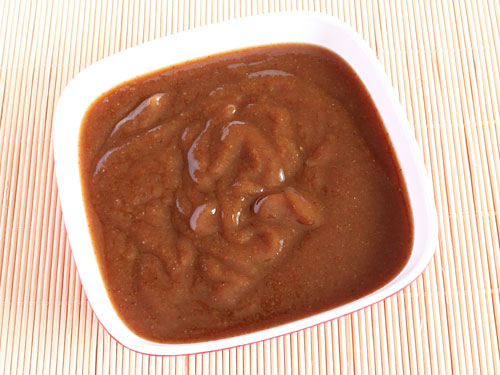 More Chutney Raita Recipes
Preparation Time:
5 minutes
Serves:
6 servings (1½ cup)
Ingredients:
1/4 cup seedless Tamarind (Imli)
1/2 cup seedless Dates
1/2 cup Jaggery (Gud)
1/2 teaspoon Red Chilli Powder
1/2 teaspoon Cumin Powder
1 teaspoon Coriander Powder
1/4 teaspoon Garam Masala Powder, optional
3 cups hot Water
Salt
For Tempering
1 Green Chilli, finely chopped
1/4 teaspoon Cumin Seeds
1/2 teaspoon Ginger-Garlic Paste
1/4 teaspoon Sesame Seeds
1½ teaspoons Cooking Oil
Directions:
Chop dates into small pieces. Grate or chop jaggery into small pieces.

Soak chopped dates in 3-cups hot water for 10 minutes.

Add tamarind to soaked dates and boil them together over low flame for approx. 8-10 minutes or until dates become soft and tender.

Turn off the flame and let them cool for 10 minutes. Transfer tamarind, dates and water to a mixer jar and blend until a smooth puree. Place strainer over a bowl and pour the puree over it.

Strain puree through the strainer using the backside of a spoon to push it through strainer. Discard any residue and transfer it to the same pan.

Add jaggery and salt; stir until jaggery is dissolved. Boil over medium flame for 4-5 minutes. Turn off the flame; mix red chilli powder, cumin powder, coriander powder and garam masala powder.

Let it cool at room temperature and transfer to a bowl. You can make two types of tamarind date chutneys, with and without tempering. Tempering is optional and following step is for tempering.

Heat the oil in a small pan. Add cumin seeds; when they begin to crackle, add chopped green chilli, ginger-garlic paste and sesame seeds; sauté for 30-40 seconds. Turn off the flame and immediately pour tempering over prepared chutney, mix well.
Tips and Variations:
If you want to store chutney prepared with tamarind and date for later use, then prepare it without tempering and store it in an airtight container in the freezer for up to 1 month.
Reduce the amount of water to 1 cup to make thick dip or add more water to prepare diluted dip.
Serving Ideas:
In north India, it is known as khajur imli ki mithi chutney and typically used for making chaats like
bhel puri
,
sev usal
,
ragda pattice
, sev khamani, etc. more delicious.