If you are looking for a tongue tickling spicy Indian chaat to satisfy your urge to have something chatpata, then look no further. Ragda patties, a combination snack made with thick ragda, potato patty (aloo tikki) and variety of spicy chutneys, is a delightful experience to taste buds in every spoon. It also has light garnish of sev, tomato and onion that adds extra zing to its soft and crispy taste.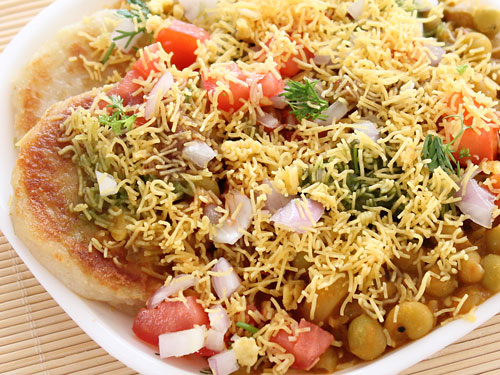 More Snacks Recipes
Preparation Time:
20 minutes
For Ragda:
All Ingredients mentioned in Ragda Recipe
For patties:
4 large Potatoes, boiled and peeled
2 tablespoons Corn Flour
2 tablespoons Bread crumbs
Salt
2 tablespoons Oil
For Serving::
1 cup Sev
1 cup finely chopped Tomato
1 cup finely chopped Onion
1/4 cup Coriander Chutney
1/2 cup Khajur Imli Chutney
2 tablespoons Garlic Chutney
1/2 cup finely chopped Coriander Leaves
Directions for Making Ragda:

Directions for Making Potato Patties:
Mash potatoes in a bowl. Add corn flour, breadcrumbs and salt, mix well.

Divide mixture into 12 equal portions and give each portion a round shape of ball. Press them in between your palms and make 1/2-inch thick flat round shaped patty.

Shallow fry them on a tawa or non-stick pan with little amount of oil until crisp and golden brown on bottom side.

Flip up side down; cook another side over medium flame until golden brown and crisp. Transfer to a plate having absorbent paper spread on it. (Absorbent paper will help soak all excess oil!)
Directions for Assembling Ragda Patties:
Prepare all chutneys by following their recipes. Dilute garlic chutney by adding 1 tablespoon water in 2 tablespoons chutney. Take all chutneys, sev, onion, tomatoes, coriander leaves, patties and ragda to assemble the patties.

Arrange 2-3 potato patties in a serving plate.

Pour ragda over it until covered fully.

Top with 1 tablespoon green chutney, 2 tablespoons khajur imli chutney and 1½ teaspoons garlic chutney. (You can adjust the quantity of chutneys to get your desired taste.)

Garnish with onion and tomato.

Sprinkle sev and coriander leaves. Prepare more serving plates by repeating the process and serve.
Tips and Variations:
You can also use 1 teaspoon tamarind paste instead of using lemon juice. Tamarind paste will make it even more chatpati and tongue tickling.
Make sure that both patties and ragda are hot at the time of serving. It is irresistible savory when served warm.
Enjoy leftover ragda with bread or bun. It's a delicious and filling snack suitable for a light dinner.
Taste:
A nice combination of spicy, sweet and sour taste.
Serving Ideas:
Serve it as afternoon snack or party snack or as a light snacky dinner.