These simple, quick and easy to make, melt in mouth Eggless Almond Cookies (Badam Biscuits) are made from powdered almond, whole wheat flour and butter. These melt in mouth Almond Cookies can be prepared using either maida (all purpose flour) or whole wheat flour. In this recipe, we have used the whole wheat flour for two different reasons – one, it makes cookie crispier and second, it has more nutritional values than maida. These homemade cookies can be stored for 15-20 days at room temperature, so it's a perfect snack to make in advance for get-togethers, kids birthday parties, etc. and its a healthy substitute of chocolates for kids. Follow this step by step photo recipe of Almond Cookie to make it at home in just 30 minutes.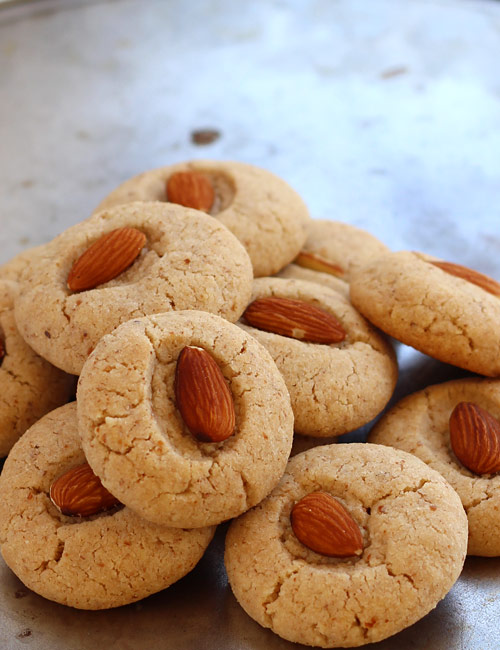 More Kids Recipes
Preparation Time:
 30 minutes
Ingredients:
1/2 cup Almond Flour or Crushed Almond or Almond Powder
3/4 cup Whole Wheat Flour
1/4 teaspoon Baking Soda
A pinch of Salt
1/3 cup Unsalted Butter, at room temperature
1/2 cup Powdered Sugar (or 1 tablespoon less)
3-4 drops Vanilla Extract or 3 drops Vanilla Essence or 1/4 teaspoon Cardamom Powder
1½ tablespoons Milk
16 Whole Almonds (or halved or sliced), for garnishing
Note:
If you are using salted butter, do not add salt in step-1.
This recipe needs soft butter (not melted) to make a cookie dough, so take the butter out from refrigerator at least 30 minutes before using or microwave frozen butter for 5-7 seconds.
For better result, soften the butter at room temperature instead of using microwave to soften it.
You can use either cardamom powder or vanilla essence as per your choice.
Directions:
Sieve 3/4 cup whole wheat flour in the bowl, add 1/4 teaspoon baking soda and a pinch of salt (see notes given above) and 1/2 cup powdered almond.

Mix them with a wired whisk or spatula.

Take 1/3 cup butter and 1/2 cup powdered sugar in another bowl.

Whisk them using a wired whisk or a hand bitter until smooth and soft.

Add 3-4 drops of vanilla extract (or 1/4 teaspoon cardamom powder) and 1½ tablespoons Milk.

Mix using the wired whisk. Add the mixture of dry ingredients (from step-1).

Mix well and make a dough using hand. If the dough looks soft or sticky, no need to worry because we will chill it in the refrigerator. Cover the dough with a plastic wrap (or keep in a bowl and cover with a lid) and place in refrigerator for 20 minutes.

Preheat oven at 350 degree Fahrenheit (180 degree Centigrade) for at least 10-15 minutes. Remove dough from the refrigerator, divide it into 16 equal portions and make round shaped balls from it.

Line an aluminum foil or a parchment paper over a baking tray. Take each ball, press a little between your palms and place over baking sheet. Keep enough space between each cookie because it increases to almost double in size after baking. Press a whole almond or halved almond in the center on top of each cookie.

Place the baking tray in preheated oven and bake at 350 degree Fahrenheit (180 degree Centigrade) for around 15-17 minutes or until cookie starts to turn little dark in color. After 13-minutes, check the color of cookies and cook more for few minutes if required because every oven has different settings and takes different time. When cookies are cooked, remove baking tray from oven.

Transfer baked cookies over cooling rack to prevent further cooking. They will be soft when you remove from oven, so transfer carefully. Let them cool at room temperature. They will turn crispy and mild chewy after cooling. Store almond flour cookies in an airtight container and keep at room temperature.
Tips and Variations:
To prevent cookies from turning rock hard, follow the given steps.

Do not over bake or do not bake at very high or very low temperature.
Don't forget to preheat the oven, it's a must step.
Don't change the ratio of butter and wheat flour. Changing the ratio would result in either hard or crumbly cookies.

Time required for baking the cookies may vary because of different settings and different size of oven.
You can replace almond powder with walnut powder or cashew nuts powder or pistachio powder.
Taste:
 Crispy and mild chewy cookies with nice Almond flavor
Serving Ideas:
 Serve eggless almond butter cookies as alone or with any savory snack like
methi puri
or
namak para
(basil flavored crispy snack).