Eggless coconut cookies, crispy and crunchy coconut flavored cookies are very easy and quick to make at home which require a few basic cookie ingredients like flour, butter, sugar, baking powder and desiccated coconut but no eggs. If you are a coconut lover and want to munch on crispy cookies without eggs then this one is for you. Follow the given recipe with step by step photos to make this mouth watering snack at home and enjoy it with a cup of hot tea or coffee as a perfect afternoon snack.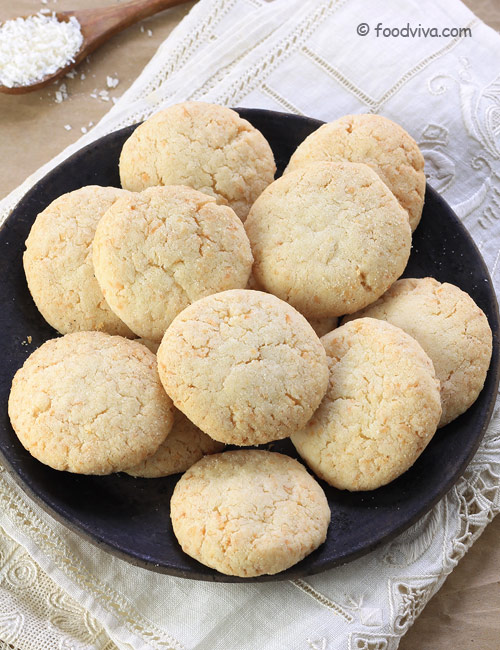 More Snacks Recipes
Preparation Time:
15 minutes
Ingredients:
1 cup Maida (all purpose flour/plain flour)
1/4 teaspoon Baking Soda
1/2 cup Powdered Sugar
1/2 cup Butter (salted or unsalted), at room temperature
2-3 drops of Vanilla Extract or (vanilla essence)
3/4 cup desiccated Coconut (dry grated coconut)
1 tablespoon Milk
Directions:
Preheat the oven at 350 F (180 C) for at least 10 minutes. Take a large bowl and keep a large strainer over it to sift the dry ingredients (1 cup maida and 1/4 teaspoon baking soda). If you are using unsalted butter, add a pinch of salt.

Sift them together.

If powdered sugar is not available, grind granulated sugar (1/2 cup-2½ tablespoons) in the small jar of a mixer grinder (to make 1/2 cup powdered sugar) until smooth powder.

Take 1/2 cup melted butter and 1/2 cup powdered sugar in another bowl.

Beat them using a hand beater until creamy and smooth.

Add 2-3 drops of vanilla extract or vanilla essence.

Add 3/4 cup desiccated coconut.

Mix well.

Add sifted dry ingredients.

Mix well with a spatula. If mixture looks dry, add 1 tablespoon milk (more or less, as needed).

Mix well using your hands and knead into dough. If the dough looks very soft, cover it with a parchment paper and keep it in the refrigerator for 20-30 minutes.

Line a baking tray with either parchment paper or aluminum foil. Divide the dough into 20-22 equal small portions and make round shaped balls from it. Flatten each ball a little between your palms to give a shape like patty. Place them on baking tray. Place the baking tray on middle rack in preheated oven and bake it at 350 F (180 C) for 15 to 18 minutes or until the edges of cookies have little golden brown color.

Remove baking tray from the oven. The cookies will be soft at this time.

Carefully lift the cookies with a spatula and transfer them on a cooling rack. Let them cool at room temperature. They will turn crispy and crunchy after cooling. Eggless coconut cookies are ready. Store them in an airtight container and enjoy.
Tips and Variations:
Make sure that butter is at room temperature (NOT completely melted butter).
If you like soft and chewy cookies, bake them for 12-15 minutes instead of baking them for 15-18 minutes.
You can use the 1/2 cup whole wheat flour and 1/2 cup maida instead of using 1 cup maida.
Taste:
 Sweet, crispy and crunchy